Apply Now!
Lone Star College is an open-enrollment institution. That means that most students are accepted once their application has been submitted. Below you will find 8 easy steps to become a LSCS student and get started in your classes.






Meet with an advisor to review your program of study, class selections and class schedule before registering for classes. You can complete class registration with an advisor or online.


LSC has several locations including six full campuses, seven satellite centers, two university centers, and four program specific locations..
Financial Aid
Attending LSC is an affordable option for most students. Our tuition rates are based on residency and you can get an estimate of your costs by using the chart to the right. If you need help footing the bill, financial aid is available to most students.
Transfer Students
Are you transferring from another higher education institution? If so, you will need to request an official transcript from all colleges and/or universities you have previously attended. For additional information, please visit the Transfer website.
Additional Resources
Need help?
Contact the Student Services department for further assistance.
Authorize a Representative
Do you need someone else to enroll, register or conduct your business with the college? We need you to submit an Authorization to Release Educational Records form.
Privacy Request Form
If you would like to place a block on the release of directory information from your student record, please submit a FERPA Privacy Release form.
Meningitis Requirement
Senate Bill 1107 amends current Texas law requiring proof of Bacterial Meningitis vaccination 10 days before attending classes.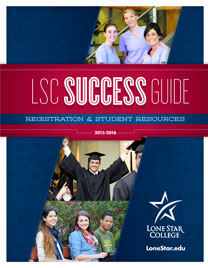 Download the LSC Success Guide
for help with registration
Get More Information