Houston Astros highlight scholarship recipients
A staple of summertime is baseball, and the Houston Astros made this tradition even more exciting for some Lone Star College students. As longtime partners of the college and supporters of the Foundation, the Astros highlighted two outstanding scholarship recipients as "Star Students" during pre-game ceremonies.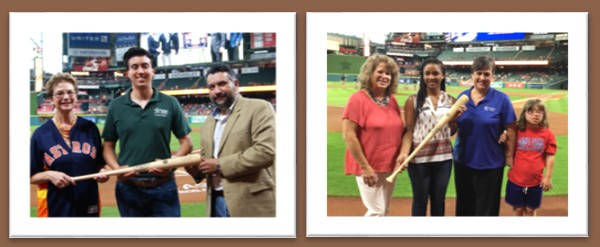 Above left: Dr. Katherine Persson, President, Lone Star College-Kingwood; Kyle Breed, scholarship recipient; and Saul Valentin, LSC Foundation Board of Directors. Above right: Karyn Jackson Stephens, CCIM, C.R.E.A.M. Board; Janelle Saunders, scholarship recipient; Dr. Lee Ann Nutt, President, Lone Star College-Tomball; Dr. Nutt's daughter Rachel.
Featured at the June 12th game was Kyle Breed, a recent graduate of LSC-Kingwood with an associate of biological science degree. Kyle was the recipient of the Dr. Linda Stegall Excellence in Education scholarship and was a member of the Phi Theta Kappa International Honor Society. His goal is to attend Baylor Medical School and become chief of surgery at a trauma center, or to open a private practice.
"For me, the reason for choosing Lone Star was economic, because I wanted to go to medical school," says Kyle, "but I gained a lot more than affordability. Being able to participate in the Honors College cohort, I really gained skills that I didn't think I would gain at a community college. I've been doing interview practice, I learned how to write a resume, and create a CV, and apply for jobs."
Scholarship recipient Janelle Saunders was honored during the June 17th game. Janelle is a graduate of LSC-Tomball with an associate of arts degree and business operations certification and plans to attend the University of Houston - Downtown with a goal of investing in real estate using her marketing skills to be successful. As a two-time scholarship recipient provided by the Commercial Real Estate Association of Montgomery County (C.R.E.A.M.) Janelle was thrilled to meet her benefactor, represented by Karyn Jackson Stephens, CCIM, C.R.E.A.M. Board member.
C.R.E.A.M. strives to promote economic development of Montgomery County and to provide programs to further the education of their members. Giving back to the community through charitable activities is also a priority for C.R.E.A.M. "We feel the scholarship offered to a Lone Star student interested in real estate is a great way to further that educational opportunity for future real estate practitioners who can carry on this goal," says Karyn.
Janelle is very appreciative of the education she received at Lone Star College, as well as the donors who make scholarships possible, and hopes pay it forward in the future. Janelle says, "I just want to thank Lone Star so much for giving me the opportunity to have a great education at an affordable rate. And I want to also thank all the counselors and all the donors who made it all possible."
In 2016-17, the Foundation awarded $1.7 million in scholarships to 1,500 students. This is wonderful news! However, nearly 3,000 students applied, so there is still work to be done so that all of our "Star Students" can earn the opportunity to receive a college education and pursue their dreams of a rewarding career. If you are interested in starting a scholarship or an endowment to support students, contact the Foundation Office.