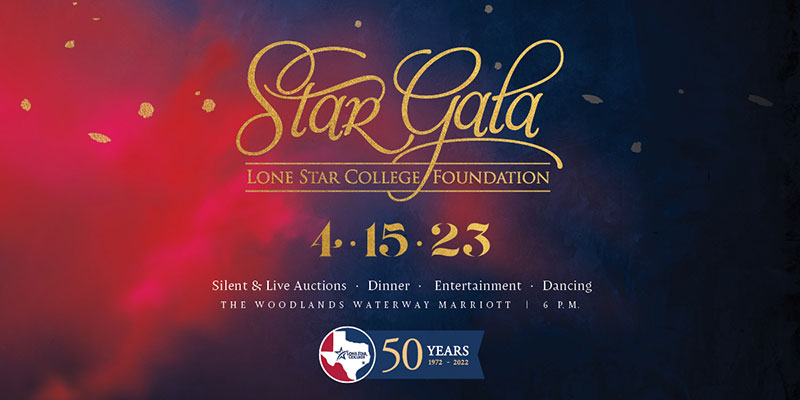 Lone Star College Foundation StarGala raises funds for student success
Lone Star College Foundation raised over $460,000 during StarGala 2023, its annual signature event.
"Lone Star College Foundation plays such an important role in our students' lives," said Stephen C. Head, Ph.D., LSC Chancellor. "StarGala really does make a difference and I am grateful to everyone who attended and supported such an important cause."
LSC Foundation raised $2.6 million and provided $2,140,857 in scholarships to 2,053 students and $464,000 in program and emergency support to Lone Star College in 2021-22.
"Without you, many Lone Star College students, including I, would not have an opportunity to receive an education," said Nancy Valadez, LSC-Tomball student who shared her success story with the attendees. "I always knew that Lone Star College was the right choice, and I am grateful for this opportunity to be here tonight." Valadez recently earned the prestigious Chancellor's Essay Contest scholarship.
"I understand how incredibly important it is to make sure we provide as many scholarships as possible," said Head, who began his career in higher education as a Director of Financial Aid.
Supporters included: Golden sponsor - Barnes & Noble College; Jubilee sponsor -The Woodlands Waterway Marriott Hotel & Convention Center and Commemorative sponsor - Diane & Seth Sharr, along with many other supporters listed on this page.
"None of this would be possible without the support of our generous donors and sponsors who help make a difference in our students' lives," said Nicole Robinson Gauthier, LSC Foundation Executive Director. "I would also like to express my gratitude to our dedicated staff and volunteers whose efforts made StarGala 2023 such a success."
This year's live auction included the chance to attend a Houston Astros game in a luxury suite, a summer escape to Colorado and the popular Chancellor's Golf Experience, where one lucky bidder and six of their friends won the chance to play golf with LSC Chancellor Stephen C. Head.
"The work of the LSC Foundation and the support of our donors change lives," said Gennifer Kelly, LSCF Chair. "This past year, we have not only been focused on the growth and sustainability of our current programs and endowments but also worked to develop new ways to provide financial support to more students."
Visit LSC Foundation's Facebook page to view the StarGala photo gallery HERE!