Mini Grant funding adds sense of realism to EMT training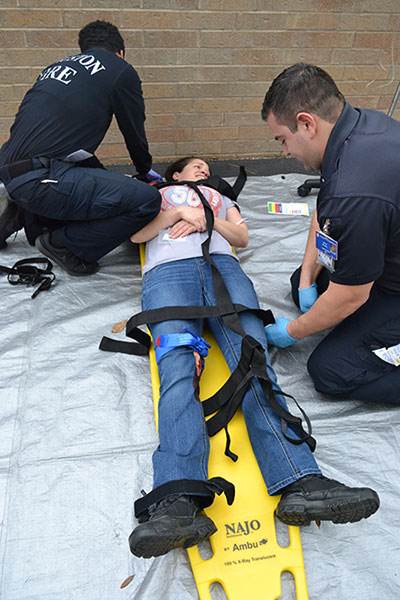 It might have looked like a scene from a disaster movie, but several LSC-North Harris students were getting a chance to practice real life-saving skills on simulated patients with help from special moulage, or make-up, meant to accurately depict injuries. Without receiving a Foundation mini grant to purchase the make-up, students would have to practice on mannequins with injuries verbally described by instructors.
"While students are assessing patients and looking for potential injuries we have had to verbalize those injuries. With the purchases from the mini-grant we are now able to create realistic looking injuries so that students actually see the injury. In the field students don't ask someone what is wrong, what it looks like, they see it." said Jennifer Neal, EMS Professions faculty member.
"Each year, thanks to generous donations, the Foundation awards a select number of mini grants to small, innovative project ideas. It's a great opportunity to use the funds as seed money to test ideas before launching a larger program" said Fiona Burnett, Foundation Program Coordinator.
Besides some gruesome-looking make-up, the funding also paid for cardiac monitor simulation bags so students can practice on the machine with a simulated patient and IV trainers so they can communicate with a real person while practicing starting an IV. Faculty have already noticed an improvement in teaching students with these new tools. There is a big difference between communicating and working on a real person versus a mannequin or simulator says Neal. "We have started to look at some of the challenges we faced just after graduation and to see what better ways we can improve the students' ability to quickly adapt and recognize life threats. Learning to talk to patients and look for key information is different than everyday small talk."
While simulations with make-up aren't unique to Lone Star, Neal said many other schools only do this on a mass scale or at the end of a program. At North Harris, faculty are trying to hold simulations more regularly and earlier on in training. "Funding our program gives us the opportunity to look at advanced training resources to better prepare students for the day one of us needs them."
Real life training is vital as these students prepare for careers as Emergency Medical Technicians (EMT), Paramedics, and firefighters. After completing their courses, students must pass certification tests, and many later go on to work in our community. "We are training future pre-hospital care providers that will serve in our local communities. These students will work on ambulances, fire trucks and in emergency rooms all around our area and even beyond. We tell our students they will be working in areas that we as faculty and staff live in. In an emergency we want to feel confident that they can provide the best care for our daughters, sons, husbands, wives and parents." said Neal.