Lone Star College Foundation accepts donation to advance diesel technology training
HOUSTON (Dec. 8, 2015) - The Lone Star College Foundation received a diesel transmission trainer donated by Allison Transmission and Stewart & Stevenson.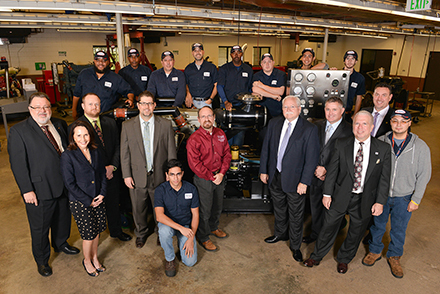 The training equipment will be housed at LSC-North Harris and used to enhance the Industrial Diesel Technology program.
"We are pleased to accept this very generous donation," said Leah Goss, LSC chief advancement officer. "We are very grateful to Allison Transmission and Stewart & Stevenson for their support of Lone Star College and are eager to get this highly-sophisticated training equipment into the hands of our students."
Diesel transmission trainers enable students to learn how to troubleshoot and diagnose engine problems, disassemble and reassemble engines correctly, repair and overhaul engine components, and perform preventative maintenance and tune-ups.
"This brings real world exposure to our students," said Tom Robertson, LSC-North Harris, Industrial Diesel Technology, director. "We will use this equipment from front to back to help our students gain confidence when they enter the workforce."
The U.S. Department of Energy is working with engine manufacturers and fuel suppliers to develop diesel engine technology to produce very low emissions of reactive nitrogen compounds and particulate matter. As lower emission diesel technology becomes a reality, diesel technologists with training in the new processes are needed.
"It is estimated there will be a shortage of 370,000 diesel technician workers by 2025," said Roy T. Allice, Stewart & Stevenson, director of training and technical services. "Employees trained with these skills will be a valuable asset."
The Industrial Diesel Technology program began at LSC-North Harris in March 2014. Since that time, 20 Industrial Diesel Technology certificates have been awarded and four Associate of Applied Science degrees have been earned. The program is set to graduate 15 students later this month with their certification and five more with an AAS degree.
"I am in my 30s and was stuck in a rut," said Ryan Vawter, current LSC Industrial Diesel Technology student. "I found this program online and I feel confident that the training I am getting will help me."
"It is the mission of the LSC-Foundation to not only provide student scholarships, but also work with corporate partners to secure major gifts to help our students become a valuable asset for their companies," said Goss.
The mission of the Lone Star College Foundation is to change lives through student scholarships and quality educational programs achieved by excellence in relationship building, fundraising and investment management. Since its creation in 1991, the Foundation has expanded its initial investment of $20,000 into an extensive portfolio of $21 million. For more information, visit LoneStarCollegeFoundation.org or 832.813.6636.
Known for its leadership, innovation and steadfast commitment to student success, Lone Star College provides high-quality academic transfer and workforce education/career training programs to more than 83,000 credit students each semester, and a total enrollment of 95,000 students. LSC is training tomorrow's workforce today and redefining the community college experience to promote student success and economic prosperity. Stephen C. Head, Ph.D., is the chancellor of LSC, the largest institution of higher education in the Houston area, which consists of six colleges, seven centers, two university centers, Lone Star Corporate College and LSC-Online. To learn more visit LoneStar.edu.