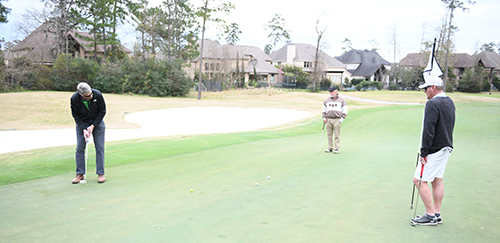 Although inclement weather postponed the 25th annual Drive for Scholarships Golf Tournament from last November, more than 240 golfers met on February 25th for a day of friendly competition and to support students' dreams of a college education. The nearly $143,000 raised will go towards student scholarships and programs across all of Lone Star College's six campuses.
A special thank you goes out to our Tournament sponsor, Netsync Network Solutions and Cisco. "We've been a proud supporter of the Foundation for many years and we're happy to see so many in our community give to help students succeed," said Tournament chair Neel Shah of Netsync.
Larry Anderson and Timoteo Garza won the raffle for an iron set and driver generously donated by Henry T. Brooks Investments.
Awards for Gary Player course
1st Place Low Gross - Caldwell Companies
1st Place Low Net - Netsync/Cisco #3
Awards for Palmer Course
1st Place Low Gross
King/General - Computex Technology Solutions,
General/Deacon - team Rob Eissler
Deacon/King - Bracewell LLC
1st Place Low Net King/General - CenterPoint Energy #2
General/Deacon - HarrisonKornberg Architects
Deacon/King - Texan Floor Service #2.
Check out our Facebook page for photos from the tournament! Please join us at the 26th Annual Golf Tournament on Monday, November 18, 2019.