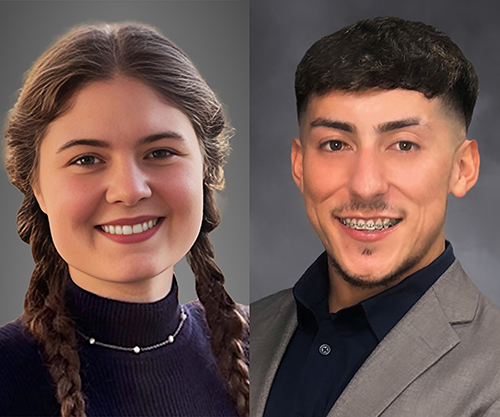 Rachel Schnakenberg and Sergio Iraheta
The Jack Kent Cooke Foundation (JKCF) has recognized two Lone Star College Honors College students as 2023 Jack Kent Cooke Undergraduate Transfer Scholars.
"Lone Star College is very proud of these students for earning this life-changing scholarship that will go a long way toward helping them achieve their educational and career goals," said Stephen C. Head, Ph.D., LSC Chancellor. "Lone Star College is shaping lives and creating a better future for the next generation."
LSC JKCF recipients Sergio Iraheta and Rachel Schnakenberg are two of 60 community college students nationwide to receive this prestigious scholarship. Benefits include up to $55,000 annually to help recipients cover educational expenses such as tuition, living expenses, books and required fees as they complete their bachelor's degree. They are also eligible to receive up to $150,000 toward a graduate degree.
Iraheta is a Global Scholar student within The Honors College. He believes those opportunities have exposed him to different educational areas in the educational system and worldwide and prepared him to conquer obstacles that could deter his success.
"Receiving the Jack Kent Cooke Scholarship will give me the opportunity that I could never imagine I would have in my life," said Iraheta. "This scholarship will support meeting all of my dreams in achieving the educational goals in my life and then share them with the people around me."
In the future, Iraheta plans to attend a four-year university, earn a bachelor's degree in Spanish and business, and become an immigration attorney.
Schnakenberg, a Merit Scholar, said The Honors College gave her firsthand experience with tasks that would have been inaccessible until much later in her academic journey. As a Merit Scholar, she will participate in the Barcelona Capstone trip this month. Schnakenberg now has the confidence and skill set to analyze material in higher-level courses, which will benefit her when she transfers to a four-year institution.
"With the Jack Kent Cooke Scholarship and the support it offers, I can freely accept offers from universities that would have been inaccessible due to cost or transportation difficulties," said Schnakenberg. "I am excited to learn without inhibitions from financial stress and the chance to put my undivided attention into the research that I love."
Schnakenberg's next steps include studying at a four-year university, completing a bachelor's degree in sociology and earning a Ph.D. She credits LSC and its faculty for inspiring her to become a professor.
15 additional LSC students were selected as semi-finalists and all will be honored at a luncheon in June. Many of the students, including Schnakenberg and Iraheta, also received LSC Foundation scholarships while attending Lone Star. Schnakenberg earned the Entergy Texas endowed scholarship and Iraheta received a golf scholarship and the Dr. Joe A. Airola endowed scholarship.
"The Honors College at Lone Star College helps meet the needs of high-achieving students, like Sergio and Rachel, enhance their college transcripts with challenging coursework across various disciplines," said Katharine Caruso, Ph.D., LSC Associate Vice Chancellor Honors and International Education. "We are very proud that two of the 60 recipients nationwide represent Lone Star College, which proves we are changing lives on local, national and global levels."
The Global Scholars program with the LSC Honors College is an international studies pathway that focuses on developing intercultural competency skills and a global understanding of cultural, political and historical information.
Congratulations to LSC's two finalists and 15 semi-finalists listed below.
Benetta Akukwe, LSC-Kingwood - LSC Kingwood STEM Scholarship, Humble Police Association-Leo Medley Memorial Endowed Scholarship
Tyranica Casey, LSC-North Harris - Barnes & Noble College Endowed Scholarship, Aldine Scholarship Foundation Scholarship
Alexis Castro, LSC-Kingwood - Gonzalo Andrew Gonzalez Memorial Scholarship, Monaghan Family Scholarship, R.E. Brooks Estate Trust Special Scholarship
Geraldine Esquivel, LSC-University Park
Amanda Hernandez, LSC-University Park
Sergio Iraheta, LSC-North Harris - Dr. Joe A. Airola Endowed Scholarship, Golf Scholarship
Nicolas Khouri, LSC-Montgomery - In Honor of Dr. Richard G. Carpenter Endowed Scholarship
Karen Martinez Fernandez, LSC-Montgomery
Jessica Mays, LSC-North Harris
Mykhailo Mazalevskyi, LSC-CyFair - The Chief Operating Officer Scholarship
Etienne Ndem, LSC-University Park - SSI Scholarship
Minh Thu Nguyen, LSC-CyFair
Ingrid Amaya Reyes, LSC-University Park - Bryan & Gennifer Kelly Endowed Scholarship, The Feldman Family Endowed Scholarship
Rachel Schnakenberg, LSC-Montgomery - Entergy Texas Endowed Scholarship
Adam Spulveda, LSC-Kingwood
Amrin Vaid, LSC-CyFair - John A. and Annice B. Nanninga Endowed Scholarship
Ana Vergara Gonzalez, LSC-Montgomery - The Chief Operating Officer Scholarship, Beta Delta Iota Endowed Scholarship, In Honor of Dr. Richard G. Carpenter Endowed Scholarship