LSC Foundation StarGala 2019 showcases student success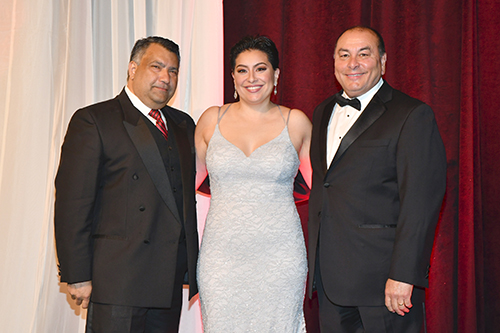 LSC Foundation Chair Saul Valentin, StarGala Chair Vanessa Ozuna, StarGala Chair Massey Villarreal
The Lone Star College Foundation raised more than $430,000 during its annual signature event, StarGala 2019.
"I am very grateful to those who sponsored, attended and donated at this year's StarGala," said Stephen C. Head, Ph.D., LSC chancellor. "It is a wonderful opportunity to get together and support student success."
A featured speaker at the event, held May 4 at The Woodlands Waterway Marriot, was Anthony D'Souza who shared his Lone Star College experience with the audience. Currently a junior at Rice University, D'Souza attended the Honors College at LSC-University Park as a Chancellor's Fellow, completing multiple honors research projects.
A current Jack Kent Cooke Scholarship recipient, D'Souza will receive up to $40,000 per year for up to three years to cover a substantial share of educational expenses including tuition, living expenses, books and required fees. D'Souza plans to attend graduate school to study environmental policy and administration.
"It was very inspiring listening to Anthony speak," said Head. "His story is a testament to what hard work can accomplish."
This year's event, themed "An Evening in Seville", included 580 guests in attendance who enjoyed dinner, a live and silent auction, and dancing.
"Supporting student success through Lone Star College Foundation is so incredibly important for our community," said Vanessa Ozuna, StarGala 2019 co-chair. "As a former student, I know the value and opportunities attending Lone Star College can provide."
"The money raised at StarGala 2019 will help make a big difference for many hard-working and deserving students," said Head, who began his career in higher education as a director of Financial Aid. "I personally know the need to make as many scholarships available as possible."
"In many cases, 20 or more students will apply for just one scholarship," said Massey Villarreal, StarGala 2019 co-chair. "This event is truly an investment in our future."
The traditional live auction item, "Golf with the Chancellor," consisting of a day of golf for two foursomes, followed by a dinner with Dr. Head, was one the most popular items bid on.
Other in-demand auction items included throwing out the first pitch before the Houston Astros game on LSC night, along with an Astros suite for a party of 21; a once-in-a-lifetime trip to Seville, Spain; and two first-class United Airlines tickets to anywhere in the U.S.
Supporters included: Visionary sponsor - Barnes & Noble College and Noble Energy; Champions sponsor - Berkeley Research Group and Caldwell Companies; Dream Maker sponsor - Harrison Kornberg Architects, Netsync Network Solutions, PBK Architects and Cisco.
"None of this would have been possible without the dedicated staff and volunteers whose efforts made StarGala 2019 the success it was," said Nicole Robinson Gauthier, LSC Foundation executive director. "Many lives are changed for the better thanks to the support of all the generous donors and sponsors."