StarGala 2018 raises more than $490k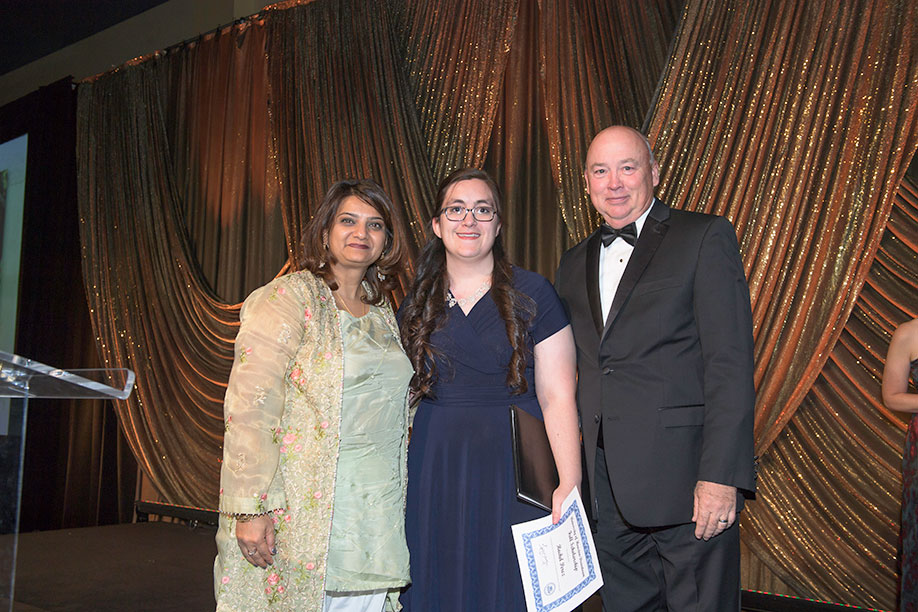 Pictured above: Dr. Faiza Khoja, Associate Vice President of Academic Affairs at University of Houston-Downtown, Promise scholarship recipient and student speaker Rachel Perez, and Chancellor Steve Head.
Click HERE for a video re-cap of StarGala 2018
Click HERE for student speaker Rachel Perez's speech
Click HERE for event photos
Saturday evening, April 14th was an amazing celebration of support and student success! The Foundation is thrilled to announce that StarGala raised more than $490,000! Check out the information below to get an idea of the huge impact this will have on our students.
The evening began with a VIP Reception where our premier sponsors enjoyed hors d'oeuvres, champagne and wine as they mingled with elected officials, ISD partners, and Lone Star College leadership, including college presidents, LSC trustees and LSC Foundation Board members. Shortly after, the event opened to the remainder of our 600 guests, and the buzz of excitement in the reception area was palpable, as competitively friendly bidding wars waged on our amazing silent auction and bid board items.
During dinner, Congresswoman Sheila Jackson Lee, United States House of Representatives, District 18, took the stage and made a special proclamation in support of Lone Star College. Following this great honor, Master of Ceremonies Eric Skiles thanked our StarGala sponsors: Follett, Visionary Sponsor; and Caldwell Companies, Champion Sponsor. There were also four Dream Maker sponsors recognized: CBRE and Heery, G2X Energy with Diane and Danny Wilson, Netsync Network Solutions, and Friends of AEF/ASF. A number of Underwriters and Silver Star Sponsors who made the success of StarGala possible were also publicly thanked. Please see the side of this page for a full listing of our sponsors and underwriters.
The highlight of the evening occurred when LSC-CyFair student Rachel Perez, a recipient of the Promise scholarship, took the stage to share her story of how her scholarship impacted her educational journey. Rachel will soon complete her Associate's Degree and is set to continue her studies at University of Houston-Downtown in the fall. Imagine her surprise and delight when our generous partners from UHD took the stage to present her with a full scholarship to complete her Bachelor's Degree! This is truly what it is all about, supporting our students through our generous Foundation supporters and teaming up with our educational partners to make our students' futures bright!
Following dinner, Nelda Blair of The Blair Law Firm led a boisterous live auction where one-of-a- kind items were offered, such as: A World Series Champion Astros suite for 20 guests; a stay in a private residence of the winner's choice in a beautiful mountain destination; two first class/business tickets on United Airlines; a south Texas dove hunt with LSC Chancellor Steve Head; an opportunity to throw the first pitch at an Astros game; and the traditional final package: Golf with the Chancellor, which alone raised $27,500.
At the LSC Foundation we are invigorated by what we do for students, for the community and for the economy. We also could not do what we do without the support of our numerous sponsors, underwriters, auction item donors, and volunteers. Please feel free to contact the Foundation to see how you can get involved in supporting our students!
SAVE THE DATE FOR NEXT YEAR'S STARGALA: MAY 4, 2019