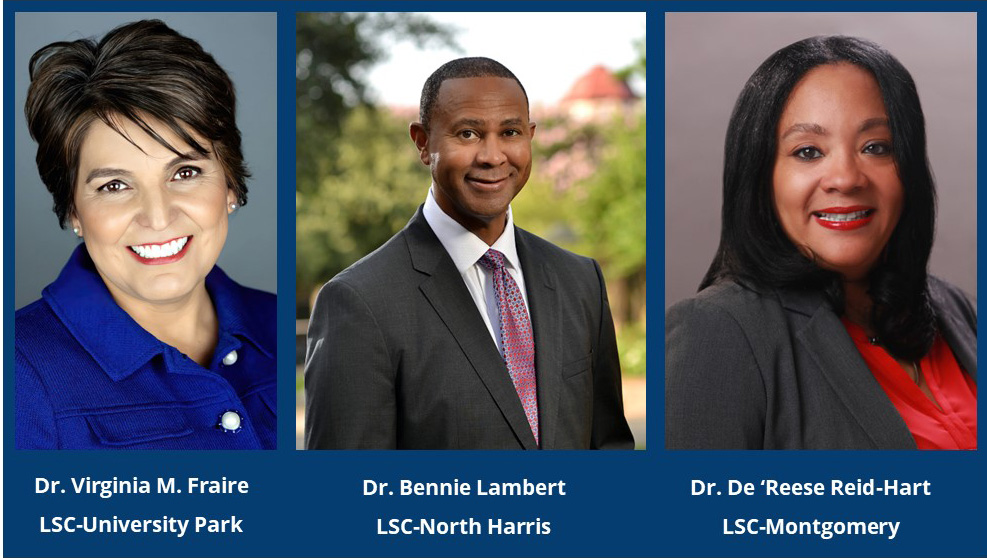 Lone Star College welcomes three new presidents this academic year. Dr. Virginia Fraire joins LSC-University Park as its second President beginning October 1, Dr. Bennie Lambert will serve as LSC-North Harris President, and Dr. De 'Reese Reid-Hart as LSC-Montgomery President.
Fraire has nearly 30 years of experience in higher education at two-and-four-year open-access institutions and most recently served as vice provost for student success and strategic initiatives at the University of Texas at El Paso (UTEP), where she provided leadership and overall management to academic programs and faculty serving transitioning students, benefiting approximately 5,000 students annually.
Lambert began his LSC career in 1991, where he developed a strong background in admissions, advising and enrollment management and served as an adjunct faculty member. Lambert has extensive experience in higher education, having also worked at Baylor University and McLennan Community College.
Reid-Hart has an administrator and leadership background that spans over 25 years in higher education. Reid-Hart was appointed Vice-President of Instruction at LSC-Montgomery in August 2020. She previously served as Dean of the Natural Science and Health Occupations Division, which she started in August 2016.