The Boundaries for these Women: "No Limits"
Women's Conference 2015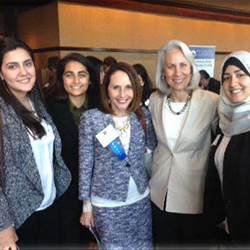 "No Limits" was the theme of the Greater Houston Women"s Chamber of Commerce Annual Women"s Conference held at the Hilton-Americas on April 30, 2015.
Leah Goss, LSC Chief Advancement Officer, invited the six students with this message: "As a representative of your college, you have been honored to be selected, and you have been sponsored by the Foundation. Therefore, I suggest dressing professionally for this occasion. Your role will be to soak in lessons and impressions from all of the amazing speakers, and simply enjoy the day."
And did they ever! The day included presentations and networking opportunities by a host of powerful and game-changing women, including: Catherine Avgiris, Executive Vice President and Chief Financial Officer of Comcast Cable; Jeanne M. Sullivan, StarVest Partners, Co-Founder & Special Advisor, named by Forbes as one of the "Women Changing the World;" and Lynn Povich, Newseek Senior Editor, author of bestseller "Good Girls Revolt," and one of the 46 women to sue Newsweek for sex discrimination in 1970, the first women in the media to sue.
LSC-Tomball student Heba Ramadan said, "I would like to thank the Lone Star College Foundation for providing us with this amazing opportunity. I had plenty of fun networking with some of the most inspiring and talented women. This is a once in a lifetime opportunity, and I was happy to share it with everyone!"