LSC Says Thank You to Hurricane Relief Donors
During the immediate aftermath of Hurricane Harvey, the Foundation received $1 million from an anonymous donor to help students affected by the storm. Over $100,000 more came in from other donors and the Chancellor's discretionary fund to help LSC employees as well.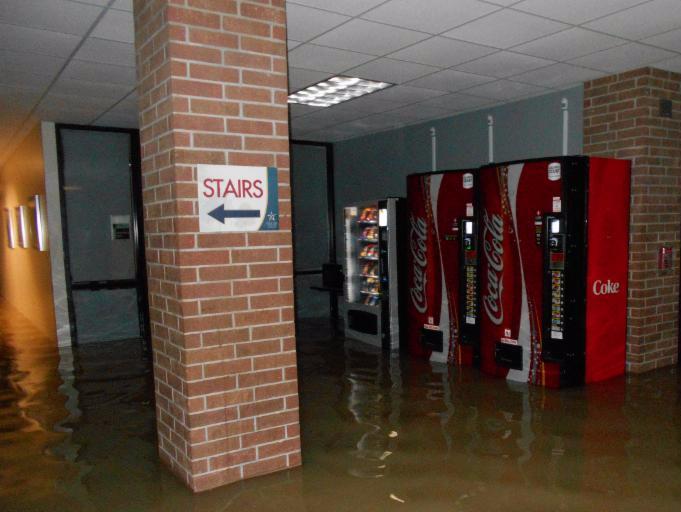 Flooding at LSC-Kingwood
In a time of uncertainty for many, the relief checks offered a ray of hope and enable students to stay on the path to success. More than 275 employees and 2,000 students received checks to help offset the costs of car and home repairs, replace school supplies and essentials like food and clothing. Here are just a few of the heartfelt words from those assisted by our generous donors.
"It was a real life saver receiving aid through this Lone Star program. I was not covered by insurance for some damage I received to my vehicle. I was literally stranded and this was the only resource that made it possible for me to continue school this semester." - Deven, LSC Student
"We lived in Kingwood Lakes apartments and had to be rescued by boat. We made it out with our pets and a couple bags of clothes each. I didn't want this tragic event to slow down my goal of getting my Nursing degree, so I decided to stay enrolled. This helped us get the books needed and also helped pay for food for our family." - Elizabeth, LSC Student
"I would like to thank the donor who generously donated to the Lone Star College Foundation. My family was severely affected by Hurricane Harvey and we were left with nothing but ourselves. With your help I was able to purchase all the school materials that I lost with the flood." - Judith, LSC Student
"My family and I couldn't be more humbled by this act. Some may have already forgotten Harvey, but it will now forever leave a lasting impression on my family, my home and I. I pray that one day I can bless other people the way you have blessed me. I am grateful beyond words to you for your abundant heart and generosity." - Pricila, LSC Student