Our Good Neighbor Noble Energy, Inc.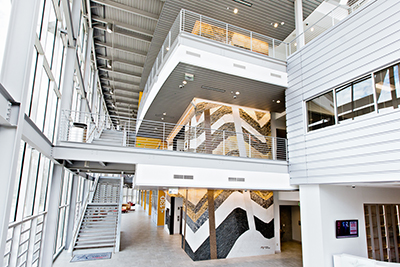 Noble Energy Geology Rock Wall at LSC-University Park
Nestled in amongst tall pine trees and shopping centers is LSC-University Park. Right next door is Noble Energy, Inc. and over the years, the college and leading energy company have formed quite the neighborly relationship. This relationship has blossomed recently into a $250,000 donation from Noble for LSC-UP's new geology wall, $25,000 for scholarships, and $50,000 for The Noble Energy, Inc. Endowment in Honor of Dr. Shah Ardalan. Talk about a great neighbor!
"The support that Noble Energy has extended to our college, both through donations and involvement in LSC-University Park's Community Advisory Council, has had a positive impact on our students and community as a whole." said LSC-UP President Dr. Shah Ardalan. Full and part time students at University Park are eligible to receive Noble Energy, Inc. scholarships that cover tuition, fees and books.
"These students are the future of innovation and we are proud to support them through scholarships and contributions to the endowment fund while celebrating the resources that fuel our everyday lives with the geology wall in the college's new Center for Science & Innovation." said Lee Robison, senior vice president, human resources and administration of Noble Energy.
As part of University Park's expansion, the new Center for Science & Innovation features a multi-story geology teaching wall. The wall gives students a visual, hands-on approach to learning. Noble Energy also lent their expertise during the wall's construction.
The Foundation has numerous partnerships with businesses across our service area who provide scholarships and funding for programs at LSC. Through these partnerships with businesses and individuals, Lone Star College Foundation is able to ensure that students' ability to pay does not hinder their opportunity for a brighter future. Is your company interested in partnering with us? Email the Foundation for more information.