Student Stories are Reason Professor Gives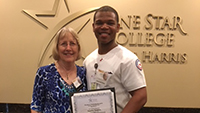 Dr. Jean Whileyman, a retired Chemistry professor, has taught thousands of students over the years at various LSC Colleges and each one had a story to tell. Many stories mirrored her own, the first in her family to attend college and working multiple jobs to afford it. Dr. Whileyman recently shared her story at the LSC-Kingwood donor reception and told why her students' stories inspire her to give to LSC Foundation.
"It was assumed that I would go to college, but with my dad working as an accounting clerk and my mom working as a secretary, there was barely enough money to feed and clothe my three siblings and me." Whileyman said, "My dad was embarrassed about his meager earnings and did not want to fill out the FAFSA paperwork so I was unable to receive financial aid. Thus I worked as many jobs as I could and I socked it away in my college fund."
Whileyman went on to successfully complete her education and teach college courses herself at LSC-Kingwood and LSC-North Harris. It was during this time as a teacher that she heard numerous stories about the obstacles facing her students. "One of my students confided in me that she and her elementary school-aged son were homeless, living in her car, yet both she and her son were still attending school. Another one of my students was living in a home where she was being abused. She was seeking an education so that she could get a job, take her children and leave that toxic environment."
It was hard to hear such heartbreaking stories and not take action. Therefore, during her tenure, she contributed to the Foundation through payroll deduction. She now has multiple endowments that will award scholarships to students at Lone Star College in perpetuity, helping students overcome financial obstacles keeping them from a successful future.
In her speech at the reception, she told the audience, "$500 may not seem like much but a $500 scholarship can make the difference in whether a student is able to attend school for a semester or not. For those of you who have not contributed yet, I encourage you to do so. There are many other deserving students out there that need our assistance. Check your budget. Check your heart. Tell your friends, coworkers and neighbors about this worthy cause!"
DONATE today to help students succeed!