Hurricane Harvey Relief Recipient now a Graduate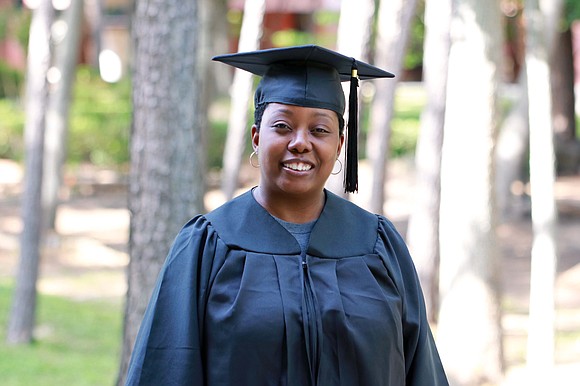 It is hard to imagine that recovery is still ongoing if you were not affected by Hurricane Harvey, but for Lone Star College-Montgomery student Holly Clay, it is just a fact of life. She lost everything in the floods and rebuilt from the ground up while staying on track with her education. Now, as she triumphantly marched across the stage and received her Associates of Arts degree at the LSC-Montgomery's commencement on Thursday May 10, the moment was twice as sweet.
"Hurricane Harvey has been a very rough, trying experience," said Clay. "I do not think people really understand the severity of what happened. You see it on television, but to go through it is totally different." Clay lived off FM 1960 and Aldine Westfield Road. Her complex was elevated about four feet off the ground, but she still eventually got more than four feet of water in her apartment.
"The day Hurricane Harvey hit, I kept seeing the firefighters and the National Guard outside, so I packed one bag and that is all I have of my old belongings," remembered Clay. "Whatever I could fit, I packed. When I was rescued, the water was so high, the firefighter had to pick me up, throw me over his shoulder and put me in a boat." Clay admits she planned to delay school that semester.
"I had lost everything," she said. "I did not have notebooks, I was literally starting from scratch - you name it I had to buy it: underwear, socks, pants, shoes everything! It was hard to imagine school on top of getting important parts of my life in order." Clay started living with a friend of hers when a former Spanish professor, Norseman Hernandez got in touch with her.
"Norseman checked in on me," said Clay. "I told him the situation and he immediately urged me to come back to LSC-Montgomery. He begged me to take just one class, so I re-registered as soon as I could get Internet access. I ended up taking two classes, I was able to manage it somehow, but I honestly I do not know how I did it. I still do not know how I made it through all that mentally. Everything was so up in the air, so day-to-day." Clay says in the midst of the natural disaster she truly saw the good in people.
"Living through the aftermath of Hurricane Harvey gave me hope in humanity because people who did not even know me came to my aid when I needed it," reflected Clay. "LSC-Montgomery helped me through the Harvey Relief Fund and the Food Pantry. Professors kept up with me, making sure I was okay and I appreciate that, it really meant everything to me at the time. I work at a leading fashion retailer in The Woodlands and my job heard about my situation. They came through for me, making sure I had a deposit for a new apartment before FEMA kicked in."
This is not the first punch Clay has felt from Mother Nature, she also lost her car in the 2016 Tax Day Floods. As she celebrates her educational accomplishments, all these memories still loom large in the background.
"I still feel the effects of Hurricane Harvey today," admitted Clay. "There are still daily things that I think, 'oh I need this,' only to remember I lost it in the flood. Also, every time it rains, I get nervous. I have to concentrate on calming down. Mentally, I start panicking and preparing myself. The news is already talking about this upcoming hurricane season and all I can think of is, 'I do not want to go through that experience again!'"
Many others would have given up when faced with a situation like Holly's, but she has managed to pull through with a positive attitude. She urges anyone thinking about an education to go back to school. "It is tough when you have to go through difficult things in life, but if you learn from it then you get stronger," said Clay. "Do not let anything prevent you from getting an education, I grew up in a very cult-like religion where members were made to think they should not get an education, so it has taken me a while to convince myself I could do this, then Hurricane Harvey also happened. The point is, there are many different scenarios that might hinder you from getting a degree, but you can absolutely get it done. I am living proof that you can go back to school. If I can do it, anyone else can do it. I have had a great experience at LSC-Montgomery and I cannot wait for what else is in store. It is my dream to go to Texas A&M so I am going to make that happen. My finances are holding me back right now, but my education has been a long journey from day one. Harvey sucked the life out of me, but I am still here, so I know I will make it through Texas A&M."
The Lone Star College Foundation received an anonymous donation of $1 million dollars that it used to help students, like Holly, affected by Hurricane Harvey. Within two weeks of submitting an online request for assistance, more than 1,800 students received relief checks ranging from $250 to $1,000. These funds helped offset costs of car and home repairs; replace school supplies and essentials like food and clothing. The Foundation also recently distributed an additional $100,000 grant for relief assistance from Strada Education Network, Mayor Sylvester Turner, and the City's Office of Education, administered through the Greater Houston Community Foundation. To be eligible, students had to be enrolled for Spring 2018 and reside within Houston city limits. A total of 350 full and part-time students received aid, ranging from $100 to $500 each.