Lone Star College Promise Scholarship Recipient Shines Bright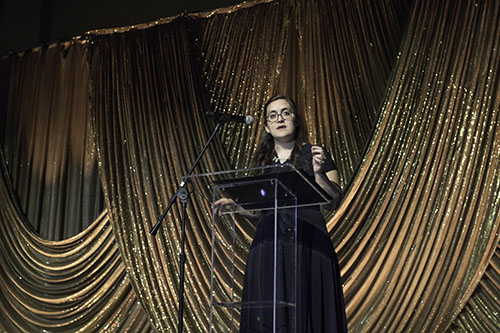 Rachel Perez speaks at StarGala 2018
Rachel Perez is ready to take the next step in her dreams of becoming a pediatrician or an emergency room physician thanks to the Lone Star College Foundation and the University of Houston-Downtown.
"I've been at Lone Star College for four years now," said Perez. "The first two years was as a dual credit student then I became a full-time student and it's been a life changing experience." Perez is set to graduate this month with an Associate of Science degree from LSC-CyFair and plans to transfer to the University of Houston-Downtown to earn her bachelor's degree, thanks to a full scholarship that was recently awarded to her from UH-D at StarGala 2018.
LSC and UH-D have teamed up to extend and expand their program-to-program agreements, making it easier for students to transfer between the two institutions. The agreement also allows LSC students to co-enroll at UH-D and take classes from both institutions simultaneously.
"The scholarships and the experiences I've had have been great and now I'm really looking forward to attending the University of Houston-Downtown," said Perez.
A Lone Star College Promise scholarship recipient, Perez was recently recognized before a Houston Astros game and received a commemorative bat from the team for her success in the classroom. The UH-D scholarship was presented at the LSC Foundation's StarGala 2018 event by Faiza Khoja, Ph.D., UH-D associate vice president of Academic Affairs.
The LSC Promise is a scholarship and community service program that provides two years of "last-dollar" funds that can be used at any Lone Star College campus. Students who apply are given assistance to navigate and complete the Free Application for Federal Student Aid. The LSC Promise then covers the balance of tuition and mandatory fees due for students who still demonstrate financial need. The scholarship is partially funded by the LSC Foundation.
Perez, who delivered her high school commencement speech as valedictorian, currently volunteers at Texas Children's Hospital.
"The Lone Star College Foundation would not be able to help students like Rachel without the support of our generous donors and sponsors," said Nicole Robinson Gauthier, LSC Foundation executive director. "Rachel is just one of many great stories of student success taking place at Lone Star College every day."
Rachel was also the student speaker at our recent StarGala, where she talked about the impact of donors' generosity. Check out her speech HERE.
CLICK HERE to support Lone Star College Promise!