Mini Grants help mind, body & spirit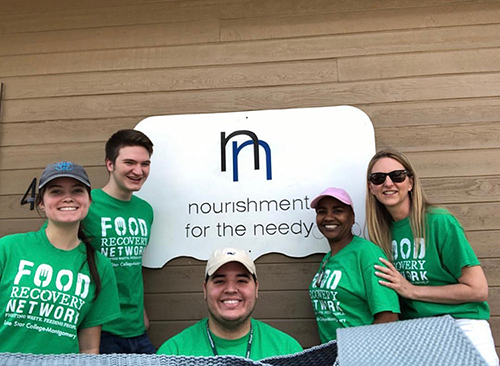 Members of LSC-Montgomery's Food Recovery Network
This year's mini grant awardees help the mind, body and spirit of students at Lone Star College. Projects ranged from learning aids for non-native English speakers, to placing FitDesk bikes in the Learning Center, to starting a group that collects leftover food from restaurants to feed the hungry.
Funded by the college and the Foundation, Mini Grants support creative ideas that improve student learning and address the college's goals. These grants provide an opportunity for faculty and staff to try new projects not normally funded through the regular budget. Some past trial projects have become permanent additions to the curriculum. The Foundation awarded 30 grants this year to LSC's six campuses and system office.
Posters with vocabulary and grammar tips line the walls in the English to Speakers of Other Languages (ESOL) classrooms at LSC-CyFair, paid for by mini grant funds. Recurring mistakes in student writing led ESOL faculty to explore alternative ways to enhance students' awareness and correct their own mistakes. "Displays of visual representation of writing concepts and language use facilitate recalling and applying what is taught in their writing," said Professor Carolyn Ho. A student survey revealed that more than 75% of students used the information found on the posters in their writing assignments.
At LSC-North Harris, students can stay active while they study with the addition of FitDesk bikes, a standing desk, and under desk ellipticals inside the Learning Center. "Students spend a significant amount of time sitting in the classroom during lectures and out of the classroom studying and completing assignments. This sedentary lifestyle often leads to health problems, depression and stress- and ultimately academic difficulties. Research shows learning is improved with exercise and a healthy lifestyle as they reduce anxiety and stress." said project director Tawana Burke. Students reported that after using the equipment for 20 minutes or more, they felt more productive and in a better mood.
Meanwhile, LSC-Montgomery became an official chapter of The Food Recovery Network, a national organization of college students who fight food waste by recovering perishable food from cafeterias, restaurants, and markets. FRN Montgomery is a pilot program for the national organization, partnering and recovering food waste exclusively from local restaurants and markets. This food is delivered to local nonprofit agencies who feed those in our own community experiencing food insecurity. "For example, we collect 70-160 pounds of pastries four days a week from Panera," Kim Burt, group mentor, said. "Markets and restaurant have to dispose of food overages for a variety of reasons; to make room for new shipments, a "we bake it fresh daily" marketing policy or simply because food has become cosmetically undesirable. It's not bad, expired or dangerous in any way." Mini grant funds paid for collection materials such as coolers, insulated blankets, gloves, and ice packs.
Other funded projects include:
Imaging of Electrophoresis Gels, LSC-CyFair
Swivl: Enhanced student and instructor teaching & learning, LSC-CyFair
ESOL Learning Walls, LSC-CyFair
Criminal Justice Leadership Conference, LSC-CyFair
Library Robotics, LSC-CyFair
3D Pens, LSC-CyFair
Continued use of Turning Point Technologies, LSC-Kingwood
Using Radion Technology to Improve & Enhance Communication, LSC-Kingwood
Students Empowering Citizens to be Environmental Justice Advocates, LSC-Kingwood
Maverick Mania, LSC-Montgomery
A Learning Antimicrobial Drug Discovery (ADD) Platform, LSC-Montgomery
GameStop in the GroupSpot!, LSC-North Harris
The American Gut Project-Getting to Know our Microbiota, LSC-North Harris
Cross-Program Wall Framing Machine, LSC-North Harris
Chromatice Tuners for Individual Band Students, LSC-North Harris
Strengthen Pharmacy Laboratory Instruction Efficiency, LSC-North Harris
Beyond the Classroom Experience, LSC-System Office
Watch & Learn Mini-Lessons, LSC-System Office
Video & Language Support in Electrical Technology Classes, LSC-Tomball
Occupational Therapy Services for an Underserved Population, LSC-Tomball
Student Success & Engagement through Self-reflection games & classroom community, LSC-Tomball
360 VR Cameras, LSC-Tomball
Tablets for Note-takers, LSC-University Park
Culturally relevant materials for Puente Cohorts, LSC-University Park
Performing Arts Master Classes, LSC-University Park
Extending the reach of Professional Development, LSC-University Park