Tomball Regional Health Foundation surpasses $1 million donated
Congratulations are in order! Tomball Regional Health Foundation (TRHF) recently earned the rare distinction of donating more than $1 million to Lone Star College Foundation since 2013. "Lone Star College Foundation is thrilled to continue to partner with TRHF and grateful for their generous investment in the students at LSC-Tomball." said Foundation Executive Director Nicole Robinson Gauthier.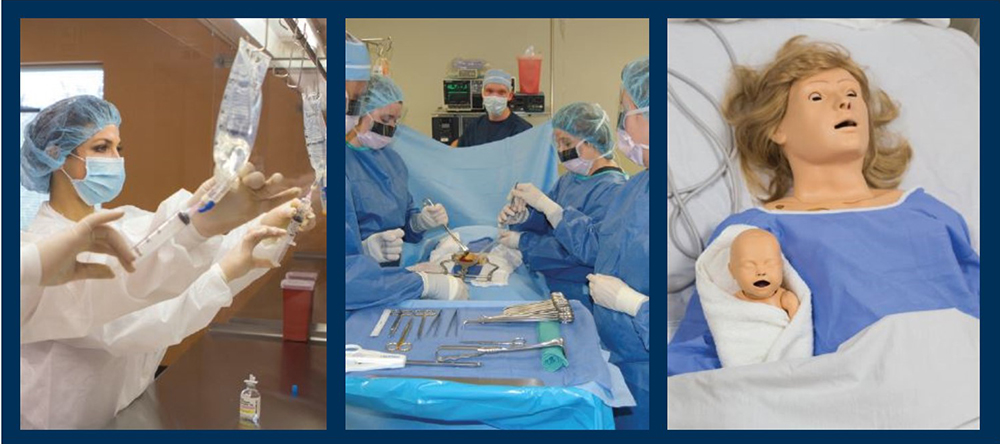 Donations from Tomball Regional Health Foundation benefited
(L to R): Pharmacy Technology students, Surgical Technology students, and provided patient simulator "Noelle" and newborn.
TRHF endows nursing scholarships at LSC-Tomball along with funding several equipment and teaching enhancements for health occupation students. Thanks to funding from TRHF, students have trained on industry leading equipment, patient simulators, and received nursing textbooks just to name a few. "One of the most difficult things about teaching nursing is helping students make that step between learning the skills and equipment and then having to use those skills and equipment on an actual patient. Our students are so much better prepared to take that step with greater ease and confidence because we have the current technology and equipment for them to learn within lab," said Catherine Gray, Director of Nursing.
As LSC-Tomball President Dr. Lee Ann Nutt presented at TRHF's August board meeting, the donations from TRHF did more than just provide equipment and scholarships. "The Tomball Regional Health Foundation is a difference maker for LSC-Tomball, significantly impacting the experience we are able to provide. Their generous financial support allows us to create an even more outstanding teaching and learning environment. This is evidenced by the growth of our programs and the success of our students." Dr. Nutt said, "Due to Tomball Regional Health Foundation's trust and investment in LSC-Tomball, together we are transforming the lives of our students and making Tomball a stronger community."
Just a few examples of TRHF's Impact:
Patient Simulator, Noelle, has "given birth" to 30 babies, providing labor and delivery training to 90 students
Each nursing scholarship replaced working 345 hours at minimum wage ($7.25/hr)
Overall increase in exit exam scores from 850 to 931 since 2014
76 licensed pharmacy technicians have trained on leading industry equipment since 2013
Your gift, no matter the size, can positively impacts students' lives at LSC. Consider making a gift today!