Investment in LSC Promise already reaping rewards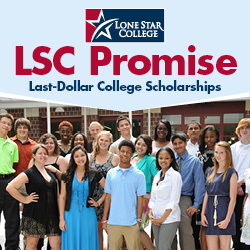 With the 2017-18 school year behind us, it is evident that LSC Promise scholarship recipients and our community are once again reaping the rewards. This past school year scholarship recipients completed over 2,200 hours of community service and received more than $180,000 in scholarships.
LSC Promise is a scholarship and community service program that provides two years of "last-dollar scholarship" for students at Lone Star College. If students meet requirements including good grades, unmet financial need, and community service hours, the Foundation awards scholarships that cover any remaining tuition and fees after all financial aid is applied.
Since its inception in fall 2016, the Foundation awarded 425 scholarships totaling $413,865. Scholarship recipients have earned 50 Associate Degrees, 20 workforce certificates and counting! Investing in Promise is an investment in our future as 91% of LSC graduates live and work in our community.
CLICK HERE to give to LSC Promise!
CLICK HERE for more Promise updates!