Alumni Update: In his own words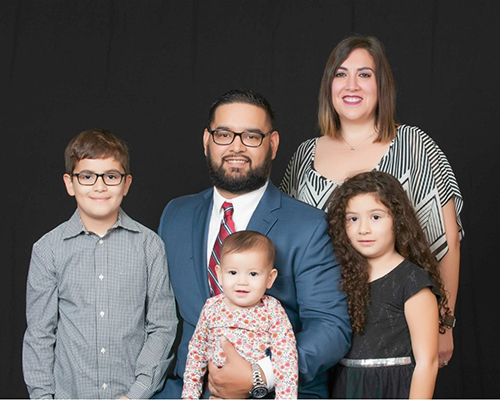 Solano Family
I graduated from Lone Star in May 2016 and started that fall at Houston Baptist University. 2016 was a very life-changing year for me. The biggest change was when I discovered my calling to be a Pastor and changed my career paths. I decide to go to HBU, pursue a bachelor's degree in Christianity and I will graduate this December 2018. On November 1, 2017, I was Ordained at Champion Forest Baptist Church and now pursing my calling to ministry as a pastor.
I would have never imagined that I would be where I am today, and it all started with walking into Lone Star College. Going back to school after being out of high school for 13 years was nerve racking and intimidating. Yet, every professor I had along my journey became another piece in the puzzle of encouragement. Anyone and everyone, who asked me about Lone Star seemed amazed at the stories of attentiveness I received from student services. They kept me on track and made sure I was making the right choices in my degree. They were especially helpful when I decided to change from a degree in science to one in fine arts. That was the point in which I found my calling.
As a parent of three kids, at the time two, money for school is something one places in the back of their mind because my family always comes first. Lone Star's financial aid office was just as attentive as student services, along with very well informed. I had been receiving financial aid, but I also applied for as many scholarships as I could get. At one particular time, I didn't really have the extra money to get my books, but by the grace of God and the Wells Fargo Endowment, I received a scholarship that helped not only get my books, but also helped me get a highly needed laptop for my online classes. I still use that laptop to this day. I am grateful to everyone who invest in scholarships. Being a recipient has shown me that there are people that care about me and those who struggle in life.
Graduation in May 2016 was the most exciting time for me. It was my first personal big accomplishment, and Lone Star helped me to achieve it. Through my personal growth at Lone Star and the generosity of those who invest in higher education, I was fully equipped to take on the next stage in my life. I will always and forever be grateful to Lone Star and their donors. You both have changed my life by extending a hand when no one else would. Thank you!!!
- John Anthony Solano