ALUMNI SPOTLIGHT: Perseverance pays off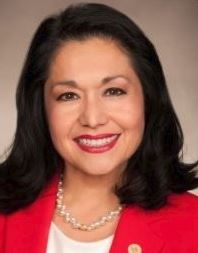 Success does not always come in a straight line. After a few career changes, raising a family, and attending school while working full time, Paula Mendoza knows that perseverance pays off. The Lone Star College alumnus started her own project management business in 2001 with just $100 in the bank but now boasts millions in product sales and services.
"I came from very supportive parents that always wanted the best for their children." Mendoza said, "My families' support, my determination, hard work and the help of mentors along the way helped me be the person and business owner that I am today. I couldn't have done it on my own."
Then called North Harris Community college, Mendoza earned her associates degree before continuing on years later to earn her bachelor's degree in criminal justice from the University of Houston-Downtown. After years of working for other corporations, Mendoza decided to open her own business. Possible Missions and Mendoza have gone on to receive several accolades including 2014 Subcontractor of the Year, being named one of Houston's 50 Women of Influence and the 2016's Women of Distinction award.
She credits her family and several mentors, including the Foundation's own board member Massey Villarreal, as critical to her success. Mendoza now pays it forward by mentoring others with her involvement in the Texas Association of Mexican American Chambers of Commerce and the Houston Minority Development Council among other organizations. In 2013, Governor Rick Perry appointed Mendoza to the University of Houston System Board of Regents.
Like Mendoza, many students at Lone Star work their way through college or return to school to change career paths after working for several years. Mendoza recalled her college experience when deciding to support the Promise Firsts scholarship. The Promise Firsts Scholarship is a new initiative to help students from underserved communities receive a first class education. Many of these students are the first in their families to attend college, a first generation American or the first to launch a well-paying career.
"I am so blessed to have the opportunity to give back to the place that gave me a chance to succeed. It is time for me to help others achieve their dreams," said Mendoza.
At the recent launch party, the Foundation announced donor pledges, including Mendoza's, totaling $250,000 with another $250,000 coming in matching gifts. The Foundation's goal is to raise $1 million by next year. These endowed scholarships will help future generations of students, like Mendoza, succeed.
Lone Star College is an affordable choice for college but the need for scholarships is still great. Last fiscal year alone, the Foundation provided $1.5 million in scholarships to 1,600 students and $2.2 million in program and emergency support. Your gift could help Houston's next great entrepreneur. Please consider making a gift today! CLICK HERE to learn more about Promise Firsts.