Scholarship Recipient: In her own words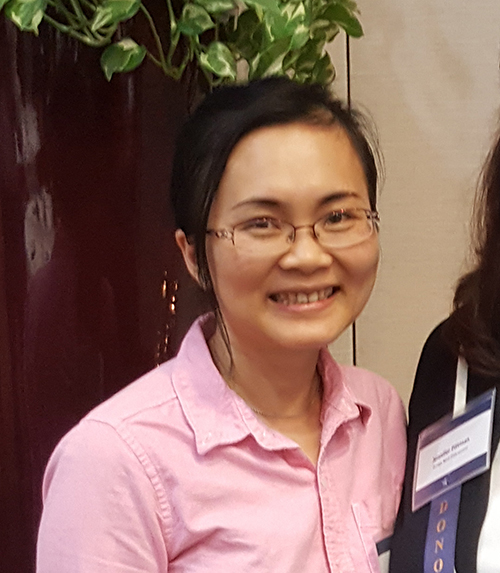 The following is a thank you letter written to "The American Federation of Teachers - Lone Star College Endowment" donors.
Dear Donor,
I am honored to be one of the recipients of the American Federation of Teachers - Lone Star College endowment scholarship. Thanks to your generous support I can finish my college education! I am very happy and appreciative!
I came from a small town in China. I was born at the period that one-child policy was extremely strict- 1980s. My parents faced huge fines and harassment to provide education for my brother and me. As a daughter in such a small town, I had to overcome many obstacles to gain my education.
To release my parents' burden, I had to drop out of high school when I was 17 years old. I moved to live with my aunt, who owned a small business in the Dominican Republic. I didn't have a chance to finish high school because I must work for her. However, I didn't give up. I taught myself Spanish whenever I had a chance. I have never given up my college dream.
Years later, after my son started his first grade, I decided to go back to school and study. With the help of the Literacy Council of Fort Bend, I got my diploma in two years. Then, I became a college student in fall 2016. I am working on my prerequisites courses in nursing. After I finish my associate degree in science, I am planning to transfer to the university to earn my bachelor's degree in nursing. I was working hard as a waitress to pay my tuition fee and books the last two years. This year, I became a certified nurse assistant, and I have been working in a nursing home for four months. It is not easy to work and study at the same time for a woman that has a kid.
Thanks to you, I am one step closer to that goal without worrying so much about the money! My short-term goal is to earn my associate degree of science in spring 2019. My long-term educational goal is to get a bachelor's degree in nursing in two years. I hope to be an active member of the profession of nursing, joining the American Nurse Association and become a certified nurse midwife one day.
By awarding me the American Federation of Teachers - Lone Star College Endowment, you have lightened my financial burden which allows me to focus more on the most important aspect of school, learning. Your generosity has inspired me to help others and give back to the community. I hope one day I will be able to help others achieve their goals just as you have helped me.
Kind Regards,
Boping Liang