An extra nickel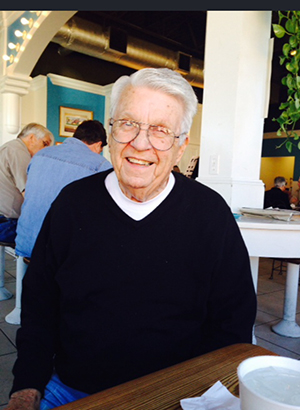 Those who came of age during World War II are often called "the greatest generation." It may be because the American forces proved victorious or perhaps it is because that generation was able to accomplish so much while facing great obstacles. Al Bolin was a veteran and member of "the greatest generation," and it is in his memory that students at Lone Star College now have one less obstacle to face.
"Al used to say that a nickel isn't very much money, unless you're buying something and are a nickel short," said son-in-law Ken Kral and daughter Nancy. With the help of the Al Bolin Memorial Scholarship Endowment, scholarship recipients have that "extra nickel." "Lone Star rocks and we feel very fortunate to be in a position to so appropriately honor and remember Al Bolin with this scholarship," Nancy said.
Thanks to the GI Bill, Bolin was the first in his family to attend college. However, even with financial aid, Al still worked his way through school. He, along with his wife Shirley, went on to successfully start VanTran Industries where he served as CEO until his passing in 2016. "Without help, my dad would never have been able to attend college. He knew that and he appreciated that." Nancy said. She remembers her father as a kind and generous person who never lost his sense of humor and enjoyment of life.
Before he passed, the Bolins created two endowed scholarships at their local community college and often hired community college graduates. "He admired the work ethic and desire to better themselves that he often saw in community college students. I think they reminded him of himself when he was first starting out," said Ken. He continued, "he knew that what may seem like a small amount of money to him could greatly change the life of another."
Both Ken and Nancy have worked at Lone Star College at various times in their careers and couldn't think of a better way to honor Al than by helping future generations reach their full potentials. "When thinking about what to give to a person "who has everything," donating in someone's honor is a unique and great gift idea," they said.
If you are interested in helping future generations of students find that "extra nickel" by establishing a scholarship, please contact the Foundation office at 832.813.6636 or foundation@lonestar.edu.