Mini Grants provide much needed funding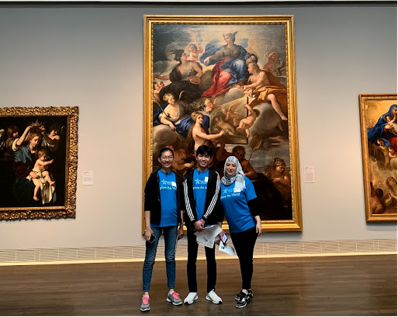 Students visit the Museum of Fine Arts as part of a cultural exchange field trip.
Two themes organically emerged from this year's mini grant cohort: Student success through transfer and completion and supporting Lone Star College's unique populations. Examples include celebrating first generation students' achievements, assisting military veterans' transition into college, and providing professional quality audition videos for music students transferring to four-year universities.
Funded by Lone Star College and LSC Foundation, Mini Grants support creative ideas that improve student learning and address the college's goals. These grants provide an opportunity for faculty and staff to try new projects not normally funded through the regular budget. Some past trial projects have become permanent additions to the curriculum. The Foundation awarded 25 grants this year to projects at every campus and system office.
Achieving Student Success
LSC-University Park music professor Aaron Alon's mini grant helped students continue their studies at four-year universities. "A big part of student success is helping our students transition to the next stages of their education and careers. Being able to produce high-quality audition videos that reflect the excellent work they've done here and show off their current skill level accurately and professionally is critical to give our students the best chance for admission into a competitive university program or for certain professional audition opportunities." he said.
Another successful project was a series of wellness workshops held at LSC-Montgomery. Multiple departments worked together to provide sessions on physical, mental, and emotional wellness to students.
Supporting Unique Populations
Lone Star College is a large and diverse system that covers around 1,400 square miles and serves more than 95,000 students. Many of these students have unique backgrounds or challenges that LSC pays close attention to.
Magdalena Mendoza-Starck's team submitted their mini-grant proposal to assist the food insecure at LSC-Tomball. "According to a recent report published by The Urban Institute, the food insecurity rate is 13.3% for households with students who enroll in a community college. This means that one in five students who enroll in a community college lives in a food insecure household." she said. Her group requested supplies to set up a campus food pantry for students in need. "When we applied for the mini-grant, we projected that we would start off by supporting 40 students. Just in the Spring 2019 semester alone, we have been able to support 256 students." said Mendoza-Starck.
LSC-North Harris hosted an international cultural exchange to build a sense of community among international students by touring some Houston attractions like Hermann Park and the Museum of Fine Arts. According to project director Wendy Palma, participants "had an opportunity to: (1) discover and explore new places; (2) learn about other students and their culture; (3) interact with people from different backgrounds; (4) meet new friends; and (5) gain a new perspective about their life at Lone Star College."
Complete list of awardees:
LSC- CyFair
Textile Design and Fashion Show
Embedding CURE in Gateway Biology and Microbiology Courses
Increase success and completion in Math, Engineering & Geology courses
LSC- Kingwood
Tablets for Tutors
TSI Math – Be Coyote Ready!
Anatomy Models for Students
LSC- Montgomery
Wise & Well- A Multidimensional Approach to Promoting Wellness
Binocular Telescope
Board Games in the History Classroom
LSC- North Harris
A Picture's Worth a Student's Degree Completion
Multilingual Read Posters
International Cultural Exchange
LSC- Tomball
LSC Challenge Coin – Veteran Graduates
Speaking Excellence Center Collaboration Space
CLASS Food Pantry
Lone Star College Tomball Teaching Garden
Music Theater Writing Workshop
Field Audio Recording
LSC- University Park
Kindles for rekindling Reading at UP
Transfer Audition Recordings & Videography
University Park Umbrella Program
First Generation College Student Celebration
Rising Stars Incentive Program for LSC-UP PASS Students
TIC Troops Transitioning into College
Finish UP