Humble Police Association awards 300th scholarship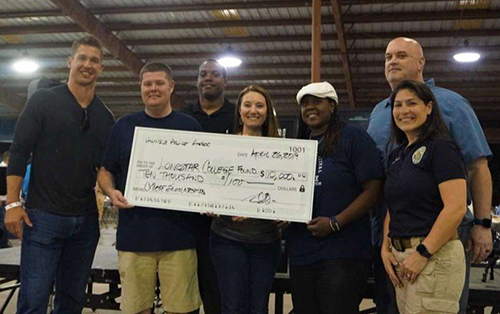 (L to R) Houston Texans player Brian Peters, HPA President Jeremy Golden, HPA VP Travis Vaughn, Foundation Executive Director Nicole Robinson Gauthier, HPA Secretary Melissa Simon, HPA Sergeant at Arms Scott Martin, HPA Treasurer Twyla Kimberlin.
The mission of the Humble Police Department is "to help the citizens of Humble in providing for a high quality of community life". This mission goes beyond public safety as Lone Star College Foundation is closing in on its 300th Humble Police Association (HPA) scholarship.
Through local donations and their annual crawfish fest fundraiser, the Humble Police Association has made a dramatic impact on its community by investing in its citizens. Graduates of Humble ISD who attend Lone Star College are eligible for one of 11 different HPA endowed scholarships. Each endowment awards a scholarship in perpetuity so generations of students will benefit. In total, HPA has donated more than $530,000 towards student scholarships.
"The Humble Police Association takes great pride in our community and are honored to be able to give back to the community by donating endowment scholarships," said Jeremy Golden, HPA President.
During the 2018-19 school year alone, 16 students graduated with their Associate degree or certificate in part thanks to their HPA scholarship. As one scholarship recipient said, "My educational pursuits would not be possible without generous support from scholarship sponsors like your organization. Thank you for enabling this opportunity."
HPD Officer and LSCF board member Twyla Kimberlin knows first hand the difference LSC makes as she is a former student. "Lone Star College provided me with the foundation I needed to begin my career. Not only can you get a great education, but you don't have to go far to obtain your goals. I believe in a strong community, and Lone Star College has broadened its horizons for all to locally reach that strength and encouragement," she said.
Kimberlin continued, "HPA holds the annual fundraiser to meet the demanding needs of students wanting to pursue their goals. In turn, LSCF has enabled the students to achieve success and make their dreams come true through beautiful campuses' to attend, and experienced professors providing high quality education. The relationship between LSCF and HPA is spectacular."
Humble Police Association Endowments:
Humble Police Association Endowment
In honor of Callaway's Collision
In honor of D&D Collision
In honor of Thomas Gardner
In honor of Mr. and Mrs. Tim Gill
In honor of Betty Hogan
In honor of Gary and Daniel Lee
In honor of Carley Summer McNutt
In honor of Leo Medley Memorial
In honor of David Niccum
In honor of Petrochem Field Services