Knowledge is power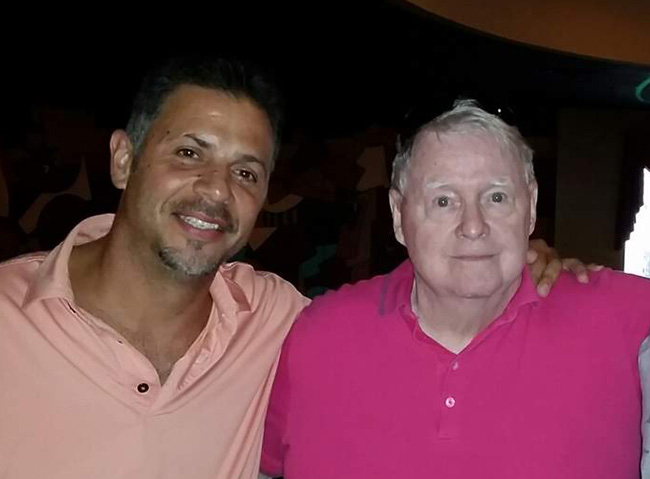 Donor Kelly Sipes gave in honor of Harley Fulton.
It's not everyday that someone finds a mentor, let alone a mentor that works well beyond retirement age because they are invested in your success. How do you thank someone that important? Kelly Sipes decided to honor his by creating the Harley W. Fulton Scholarship. Their story is years in the making.
Sipes attended community college classes both in Houston and Florida before returning to Houston to work as a draftsman in the steel detailing business. He started his own company in the mid-1990s but had to go to work for another employer when business slowed. While working for another steel fabricator, Sipes did some steel detailing work for Liberty Steel. This is when he met Liberty's co-founder Harley Fulton.
After building a great working relationship over the next few years, the plan was for Sipes to take over for Fulton when he retired and continue to grow the business with Fulton's partner. Another few years passed and by this time Fulton's partner had left the company. Liberty Steel was not the company it once was and Fulton didn't want to bring in Sipes when the business wasn't at its best.
At this time, Fulton was working well beyond retirement age. Sipes decided to take a big risk, leaving his steady job and start his own company, JEM Steel, with Fulton serving as an advisor & consultant. JEM Steel worked on Liberty's backlogged orders and together they built up JEM Steel into a successful company.
"He knew everything about the industry and everyone knew him", said Sipes. He recalled several times when Fulton seemed stressed about the company succeeding, not because the responsibility was on Fulton's shoulders but simply because Fulton wanted to do everything he could to help JEM Steel prosper. "I was honored and grateful that he got me to that point where I was", Sipes continued.
When Fulton decided to take a step into semi-retirement and move to Florida to be closer to family, Sipes wanted to show his gratitude for his mentor and colleague. "I don't know what triggered it, but I thought of a scholarship in Harley's name" Sipes said.
It just so happened that Fulton's wife knew the Executive Director of Lone Star College Foundation. Paperwork was signed and shortly before the Fultons moved to Florida, Sipes threw them a going away party, with a surprise. Sipes presented his mentor a framed certificate of the newly created Harley W. Fulton Scholarship for engineering, architecture and construction students at LSC-CyFair. "He was overwhelmed. It was a beautiful scene" said Sipes.
Sipes and Fulton both agreed on the importance of education and talked about it often over the years. "Knowledge is power. We've got to educate these kids and a lot of these kids don't have the financial support or access and we don't want them to get overlooked. "Once begun, it's half done" as they say. Starting is the hardest part and sometimes little steps lead to bigger steps" said Sipes.
The Harley Fulton scholarship recipients are already taking big steps too. One scholarship recipient, Francesca Liso, was part of a group that won a national competition at NASA, with their specially designed tool now working at the international space station! "The irony is that Harley had an affinity for the space program. I think that's amazing, absolutely amazing." Sipes said.