ALUMNI Spotlight: First in family to attend college now a surgical nurse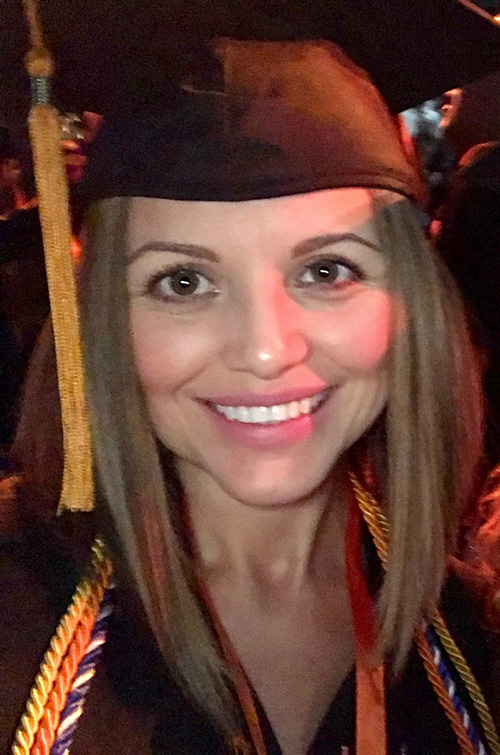 LSC-Kingwood alumnus and Foundation scholarship recipient Glenda Castillo has come a long way to realize her dreams. Born and raised in Guatemala, she was the first in her family to attend and graduate from college. Now after earning her Associate Degree, Registered Nursing license, and her Bachelor's Degree from University of Texas Health Science Center, Castillo is pursuing her Doctorate in Nursing Practice degree.
Castillo currently works as a surgical nurse at Kingwood Medical Center but hopes to move into the trauma unit. While a student at LSC-Kingwood, Castillo earned the prestigious Dr. Linda Stegall Excellence in Education Scholarship, which is given to the top 25 highest academic performers at the college. "While many realize and understand the value of a college education, others are easily discouraged upon arriving through a path less traveled, because without scholarships and patrons willing to support education and students such as myself, one will not be able to pursue the dreams and goals set forth as a child." she said.
Castillo continued, "Today, this scholarship has not only impacted my life in ways that had made me cry; but above all, reached and impacted those that I love the most." By watching her success at Lone Star College, Castillo's husband decided to return to school and ultimately earned multiple degrees. The parents have set an example to their three children not to give up on their dreams.
When asked to give advice to current students, Castillo said, "The best advice and lessons learned from my experience that I want you to take away is that dreams are not easy, are not tangible, to those that quit easily. Work hard, develop a commitment to yourself and your education. Keep dreaming and when you think about quitting remember that you are only one step closer to fulfilling your dreams."
The Dr. Linda Stegall Excellence in Education scholarship was made possible through a generous donation from an anonymous donor. By establishing an endowed scholarship, the donor created a legacy that benefits LSC students in perpetuity.
If you are interested in starting a scholarship for deserving students at LSC, please contact the Foundation at 832.813.6636 or foundation@lonestar.edu.