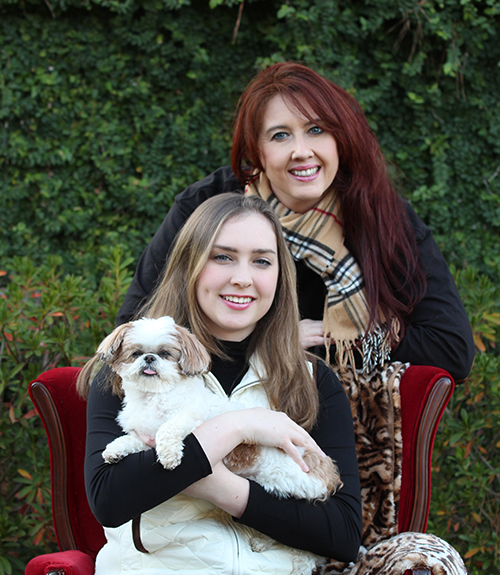 Alexandra Steward (seated) with her mother Shelly.
Scholarship recipientís success at LSC is a family affair
Alexandra Steward recalls how her motherís support and influence inspired her to attend LSC-Kingwood. In fact, you could say that she directly followed in her motherís footsteps as her mom, Shelly, also graduated from LSC-Kingwood. Along with the financial support from a scholarship, Alexandra is on her way to pursuing her bachelorís degree in finance.
As a newly divorced mother, Shelly wanted to provide a better future for her children including Alexandra. She began attending LSC-Kingwood, eventually joining Phi Theta Kappa, a national Honors Society, and graduated in 2010 as a Certified Occupational Therapist. When it was Alexandraís turn to attend college, LSC was a natural fit.
"Attending Lone Star College was one of the best decisions of my life. I was unsure as to what degree path I wanted to pursue, so I met with a career advisor and had the flexibility to discover my passion without the cost required from a University." Alexandra said.
Alexandra has thrived at LSC-Kingwood, joining Phi Theta Kappa herself and earning the prestigious Dr. Linda Stegall Excellence in Education Scholarship. The endowed scholarship goes to 25 of the top academically performing students from LSC-Kingwood every year.
"Receiving this scholarship has lightened my financial burden, which allows me to focus more on school and studying. This scholarship has allowed me to pay for my tuition and books in full. Without this scholarship, I would be using financial aid whether it was through a loan or grant." she said.
Alexandra will graduate this spring with her Associate of Arts degree and plans to transfer to Texas A&M University in the fall with the ultimate goal of earning a doctorate degree and working with charitable causes.
Every year, scholarship recipients like Alexandra can pursue their dreams of a quality college education thanks to the generosity of donors from their own communities. As Alexandra said, these students are the future leaders of the same communities. "Having the power to improve the lives of others is, to many, a privilege, and one that comes with a sense of obligation. Acting on these powerful feelings of responsibility is a great way to reinforce our own personal values and feel like weíre living in a way that is true to our own ethical beliefs. Donors to the Stegall scholarship convey the importance of generosity. Your gift will impact the lives of future businessmen and women, engineers, politicians, nurses, and countless others."
Learn more about LSC Foundationís mission to change lives through student scholarships and quality educational programs HERE.