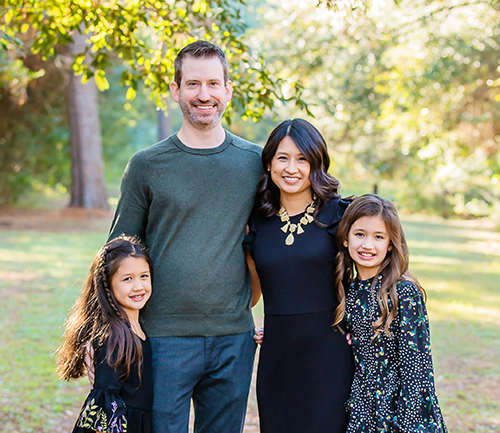 The Martin Family from Tomball.
DONOR PROFILE: Community involvement leads to gift
Ethan Martin and his family, wife Hong, and daughters Callie and Olivia love going to their local library in Tomball. Their ties to the greater Houston community run deep as they both attended nearby high schools and Ethan now works at ExxonMobil. Tomballís library is located inside the LSC-Tomball campus and through this greater community connection, students now have an opportunity to receive a quality, college education thanks in part to the Martin Family Scholarship endowment!
"We really wanted to give to a local school so we could help students in our own community and have an impact close to home. Endowing a scholarship allows our donations to help students year after year, and will grow as we continue to fund it," Ethan said.
By establishing an endowment, scholarships will be awarded to deserving students in perpetuity, creating a legacy of giving. Since 91% of LSC students go on to work and reside in our community, scholarships are also a great return on an investment in the success of our community. Donors can set scholarship criteria so they can support a particular campus or field of study.
As an ExxonMobil employee, Ethan was able to take advantage of their corporate gift-matching policy. Many businesses offer a one-to-one or sometimes even a two-to-one match when their employees and retirees make a donation. Be sure to check with your companyís human resources department to discover if this an option for you or your spouse!
"Helping students to receive an education at a high-quality school is something we're very proud to do! We're confident that Lone Star invests the endowment well and we'll continue to donate for years to come," Ethan said.
To learn more about the different ways you can support worthy students, click HERE.