LSC Foundation receives $224,696 Tomball Regional Health Foundation grant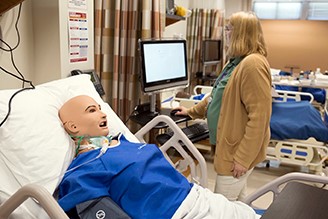 Lone Star College was recently awarded grants totaling $244,696 from Tomball Regional Health Foundation (TRHF). The grants will go toward supporting LSC-Tomball lifePATH® and nursing programs. This grant brings TRHF's support of LSC-Tomball student success to more than $1.8 million in funding.
"Together we are stronger and the strength of our partnership with Tomball Regional Health Foundation resonates within our college and in our community," said Dr. Lee Ann Nutt, LSC-Tomball president. "Once again, the Tomball Regional Health Foundation's ongoing support has enabled our health occupations and lifePATH students to gain the skills and knowledge needed to become valued and contributing members of our Tomball community."
TRHF awarded $122,856 toward the LSC-Tomball lifePATH® program to provide funding for a wraparound support coach and academic strategist. lifePATH® is a four-year comprehensive program of post-secondary educational opportunities for students who have disabilities that affect executive functioning. lifePATH® focuses on academic readiness, social expectations, and career exploration.
"The ability to produce highly trained health care workers for our community has always been a priority for the Tomball Regional Health Foundation," said Lynn LeBouef, Tomball Hospital Authority CEO and LSC Foundation board treasurer. "Because of COVID-19 and the imposed quarantines, health care workers have been impacted by the restricted availability of clinical training sites to get 'hands on' experience with the latest technology."
TRHF also awarded $101,839 to be used to purchase critical health care training equipment including 4 adult, full-body clinical nursing skills simulators, infusion pumps and surgical technology supplies.
"The Tomball Regional Health Foundation is pleased to assist in the providing of funds to Lone Star College-Tomball for additional training equipment for their nursing labs as well as faculty assistance for the lifePATH program," said LeBouef.
"Thanks to funding from Tomball Regional Health Foundation, Lone Star College-Tomball students have fewer financial barriers and more community support," said Nicole Robinson Gauthier, CFRE, LSC Foundation executive director. "This truly is a great partnership."