ALUMNI SPOTLIGHT: Head of the class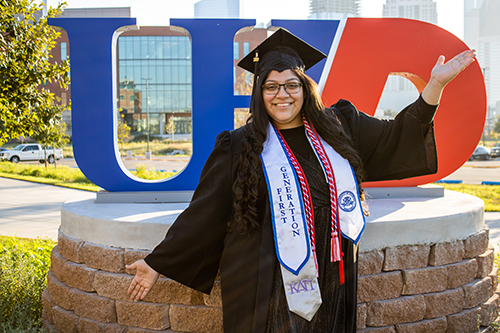 After years of attending classes as a student, beginning at LSC-University Park then University of Houston-Downtown, alumna Leonela Oliva is now ready to return to the head of the class, this time as the teacher.
"In my early teen years, I began to fervently seek what the Lord intended to do with my future. One day I went to a youth service, where Pastor James Kilgore passed out a key. This key was supposed to be the key to my ministry but, when I saw the word "Teach" engraved, I knew that was my calling in life. And Lone Star College confirmed this path by allowing me to get inside the classroom earlier before continuing my education at UH-D. I learned that teachers do more than teaching. Their impact extends far beyond the classroom. As a teacher, you are more than just an educator: you are a mentor, a confidant, and a friend," said Oliva.
Oliva continued her passion for teaching and honed her skills at LSC-University Park without the worry of paying for school with the help of the Mary Ann Grasso Foundation scholarship. "This scholarship helped me accomplish my associates degree on time and allowed me to be debt free. I did not have to worry about my financial status but focused on studying hard until the finish line," she said.
Oliva transferred to the University of Houston-Downtown and graduated Summa Cum Laude this past fall with her bachelor's degree but ultimately wants to earn her Doctorate in Education. Oliva enjoyed her LSC experience so much that she returned to LSC-University Park to work part-time in the Office of Career and Transfer Services while finishing her bachelor's degree program.
"Being a part of the Department of Student Development as a part-time Administrative Assistant has been rewarding. I have met incredible people that have helped me grow professionally throughout the years and supported my education along the way with their knowledge and encouragement," said Oliva.
As a first-generation college student, Oliva gives much credit to donors who supported her educational journey. She said, "As a Lone Star College Foundation scholarship recipient, I am beyond grateful for those generous people who help make dreams happen for people like me. I hope that scholarship donors understand the impact of their gifts to students in their community. They are not only assisting a student's financial needs but ensuring their success in the future. Be that one person to help pave the way for one student to complete their degree."