Alumni Spotlight: Kindness is free and generosity is contagious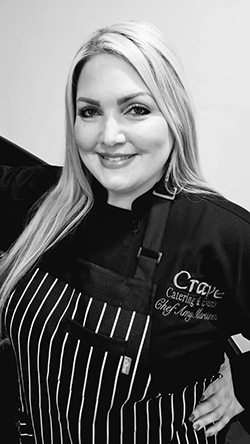 LSC-Montgomery alumna Amy Martinez
Business Owner Amy Martinez' company motto is "Kindness is free and generosity is contagious". The catering company, Grazeables, based in The Woodlands, started when Martinez delivered tasty care packages to her patients undergoing chemotherapy while working as an Infusion Registered Nurse.
When Amy Martinez suddenly found herself a single mom to four growing kids, she knew she had to do something to take care of her family. Fortunately, Martinez found Lone Star College-Montgomery's nursing program. "I started the ADN Nursing Program at Lone Star Montgomery the same day my youngest son started Kindergarten. It was one of the hardest and most rewarding things I've ever done and I was determined to make a way for my family," she said.
With the help of many scholarships, she graduated debt-free in 2012 and specialized in Oncology and Immunology while also running a small catering company with help from her children. "I noticed so many patients that would sit alone during long chemotherapy sessions with no food or companionship and it broke my heart. I started making little Grazing Boxes and bringing them to work with me for my patients to have something nutritious and beautiful to eat along with a handwritten note that also made them feel seen and valued. Word quickly spread amongst patients, their family members and doctors. Soon we were making the Grazing Boxes for everyone! I was trying to keep up with everything, but it was becoming obvious I had to make a choice on what I wanted to do," said Martinez.
Martinez is now a full-time entrepreneur. The business grew over the years and Grazeables opened its first storefront in The Woodlands in 2020. During the pandemic, Martinez said many customers used her boxes as a lifeline between friends and family as well as thank-you's to everyday heroes.