ALUMNI SPOTLIGHT: Student becomes the teacher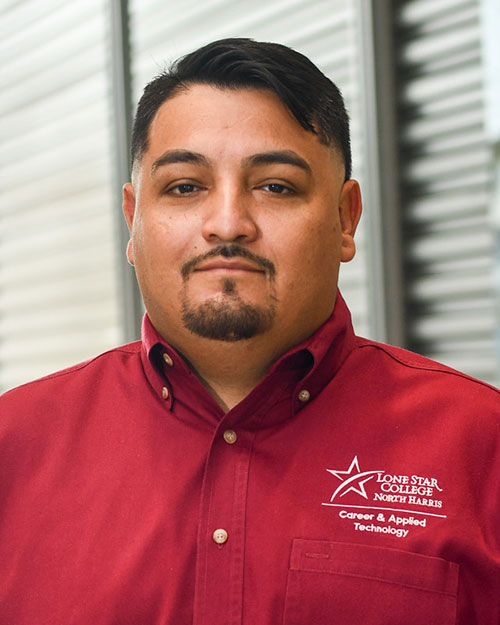 You'll find Osvaldo Caballero, Sr. most days in the Constructions and Skilled Trades Technology Center at LSC-North Harris interacting with his Electrical Technology students but just a few years prior, he was an LSC-North Harris student himself. Now the Director of Construction Technologies, Caballero credits his time as an LSC student which helped get him where he is today.
"I decided to attend LSC because I wanted to acquire new skills in order to continue improving myself while also improving my resume which in return would offer me better job opportunities," said Caballero. Caballero studied HVAC-R while at Lone Star College before earning his bachelor's in industrial technology from Lamar University where he's currently pursuing his MBA in Construction Project Management.
Caballero also works to bring in scholarships for his students including helping secure a $100,000 grant from Johnson Controls, Inc. because he understands scholarships' importance as a past recipient himself. Caballero received a scholarship from the David & Jean Wiley Foundation while attending Lone Star College. "Receiving an LSC Foundation scholarship has been by far one of the highlights of my college experience. Getting to meet the donor and personally thanking them for the impact they made in my life & career towards success was something I looked forward to after receiving the scholarship." he said.
As a student, Caballero enjoyed hearing stories from instructors about their real-life work experiences, something that he makes sure to communicate to his current students. "I decided to teach at LSC because I felt the need to help our students reach their goals and be successful professionals just as I had experienced while attending LSC. Teaching at my alma mater is very gratifying because I get to experience firsthand all the students' success and get to see many life changing situations. Being part of this institution is a great honor," he said.