Johnson Controls awards second grant to Lone Star College Foundation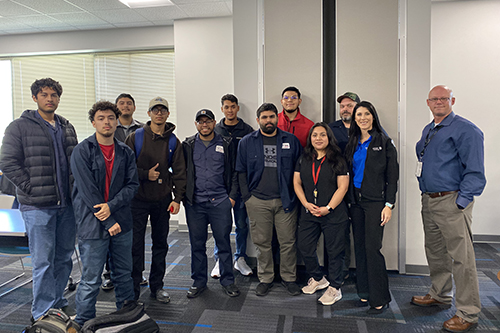 The Lone Star College-North Harris HVAC and Electrical Technology Program received a boost thanks to Johnson Controls awarding a second $100,000 grant to LSC Foundation.
The Johnson Controls Community College Partnership Program awarded LSC the first grant in summer 2021 to equip students with in-demand knowledge and skills to support their entry into the industry after graduation. LSC is one of 10 community colleges that received the $100,000 grant for the 2021 and 2022 academic years.
"Johnson Controls' involvement with Lone Star College creates a pathway from the classroom to a career," said Nicole Robinson Gauthier, CFRE, LSC Foundation Executive Director. "Johnson Controls employees visit the campus, meet with students and share real-world experiences from the field."
The Johnson Controls Community College Partnership Program funds support underrepresented students in their mission to provide a better career and quality of life for them and their families. LSC Foundation will use the funds for scholarships and instructional equipment for the HVAC and Electrical Technology Program. The money will remove financial barriers as students train in a career path with numerous employment opportunities before and after graduation.
"In recognition of Lone Star College's professionalism, commitment and outstanding work, we (Johnson Controls) are proud to award a second $100,000 grant," said Alim Adatia, J.D., Johnson Controls Senior Director. "This financial commitment will help grow and expand the college's efforts to educate the future HVAC, fire, security and digital workforce."
In addition to the grant, the Johnson Controls Community College Partnership Program created a volunteer initiative in which staff impart knowledge to students through internships, lunch and learns and other activities that support LSC and its students. Those efforts will help to fill the 4 million job vacancies that will widen when a quarter of the country's skilled trade workers retire in the next decade (U.S. Census Bureau).
"Our goal is to help narrow the skilled-labor gap by investing in tomorrow's future-ready workforce," said Adatia. "We truly believe that the opportunity to learn skills from a top tier college, like Lone Star College, and subsequently secure work at a well-established organization, can be a game changer for the future success of the student and their family."
The HVAC and Electrical Technology Program at LSC-North Harris trains students on the mechanical and electrical/electronic systems involved in contemporary environmental controls. Graduates will be prepared to enter the technical service workforce specializing in residential, commercial and industrial environment systems.