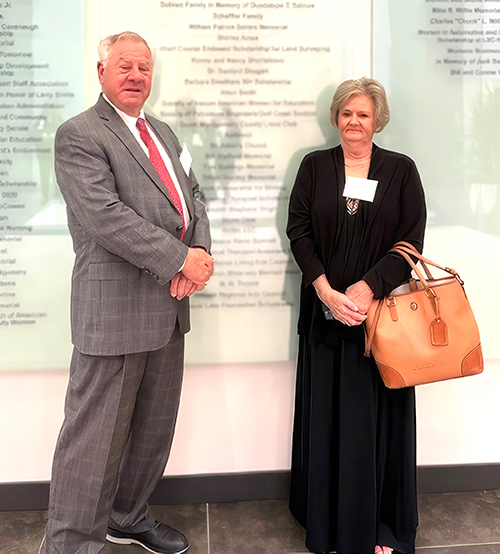 Terry and Euleta Sellers
Lone Star College Foundation relies on community members to donate time, money and other resources to help students achieve their educational goals.
Terry and Euleta Sellers are two of many LSC Foundation supporters who understand that a college education creates vast opportunities for communities to grow, thrive and succeed in a fast-growing society.
"Lone Star College provides practical, affordable and diverse opportunities for education and training in the trades fields," said the Sellers. "Lone Star College is a lifeline for many individuals, such as single parents needing a career. A $500 scholarship can help make college affordable."
Terry served on the LSC Foundation Board of Directors from 2005-2011.
"Lone Star College Foundation's goal is to make a real difference in the lives of our students through various funding options to help them pay for their education without incurring heavy debt," said Nicole Robinson Gauthier, CFRE, LSC Foundation Executive Director. "Through donor support, LSC Foundation provides financial assistance to students who are working to gain productive careers that will take care of their families which in turn benefits our community."
Although earning a college degree changes lives, financial obstacles can prohibit some having the opportunity to further their education. The Sellers created the William Patrick Sellers Memorial Endowment in memory of their son, Patrick. Recipients must attend LSC-Montgomery and study History; a preference is given to U.S. Army veterans.
"We selected this memorial because of what it can mean to others like Patrick, who had a passion for learning and sharing," said the Sellers. "We hope this endowment will benefit military veterans pursuing their degree path."
Patrick Sellers served in the United States Army as an Intel Analyst for eight years. Afterward, he attended LSC-Montgomery to complete his degree. There, a history professor saw his passion for the subject and asked him to present to the class.
"My father attended Lone Star College-Montgomery as a veteran, husband and father," said Cade Sellers, LSC-Montgomery student and 2023 Chancellor's Essay Contest scholarship recipient. "He exemplified many of the demographics that many students can identify with. The endowment in his honor will help support students no matter their life path. The funds will help them pay for their education and support them or their families without incurring debt."
Family obstacles caused Cade to lose confidence and question his next step after high school. He decided to work for a few years until he found renewed hope in education through LSC-Montgomery. Cade started in fall 2021 with a part-time course load. He describes his college experience as challenging, inspiring and eye-opening.
"When I graduated from high school, I did not have a lot of direction, felt capable or thought I would survive college," said Cade. "Once I started at Lone Star College-Montgomery, my confidence increased, and I began to feel that I can and will succeed."
Cade's dream career is in neuroscience. His passion for science stemmed from a brief time in home school, where he could freely explore his interests while constructing a view of the world that made sense during a confusing time in his life.
"I found that learning science, particularly neuroscience, empowered me to deal with the challenges I faced, such as my ADHD, post-concussion syndrome and my mom's autoimmune disorder, better," said Cade. "I can now understand the world around me as well as myself. Learning neuroscience will help me better understand the nervous system and train me on various technologies and methods to help my future patients with their medical needs."
Cade graduated from LSC-Montgomery in May 2023 with an associate of science degree. He plans to attend a four-year university and earn a bachelor's degree in either neuroscience or a science-related field. Afterward, Cade will enroll in a medical science training program to earn a Ph.D., allowing him to see patients and conduct scientific research.
"Lone Star College has profoundly impacted my life," said Cade. "The college has helped me find a sense of purpose. I have made friends, grown as a person, learned about the world in many ways and found things to value."