Where is he now? Lone Star College!
Meet Raymond Craft, 2009 Dr. Linda Stegall Excellence in Education Endowment Scholarship recipient.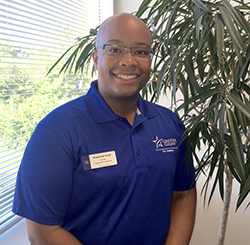 Upon graduation from Atascocita High School in 2008, Raymond Craft's original intention was to attend LSC-Kingwood just long enough to be able to transfer to the University of Houston. But soon he realized the value of achieving an associate's degree. He also became involved in campus life with the Leadership Institute, the African-American Student Association, and as a Student Ambassador. "Being so involved made me want to stay longer than just one year," says Raymond. "I had built meaningful relationships and loved the culture."
Raymond started working for LSC part-time in 2009, when he was still a student himself. After becoming a full time employee in 2014, he began his LSC career in student outreach and recruitment, and is now a full-time employee in Organizational Development, serving as a Department Specialist. In 2009, he received the Dr. Linda Stegall Excellence in Education scholarship. Being a recipient of this scholarship, as well as other scholarships, built Raymond's loyalty to LSC. "Easing the financial costs of college for my parents was extremely helpful," says Raymond, who eventually transferred to the University of Houston and earned his bachelor's degree in sociology in July 2015.
Outreach and Recruitment is where Raymond's passion for the LSC mission really took flight: "Working with a diverse group of students, informing them about the many programs that LSC offers, and seeing their excitement and ambitions grow...was so fulfilling to my heart. My current role in Organizational Development allows me to work closely with our LSC employees to ensure the students are succeeding in their college and career aspirations."
Raymond is currently working towards a Master's of Science in Higher Education to better serve LSC and its students. In the near future Raymond plans to serve as an adjunct professor for the First Year Experience course and also become a director in a department closely tied to student success at Lone Star College. Raymond states, "I want to continue my career at Lone Star College, so that I can serve the institution that served me so well, with amazing professors, a wonderful culture, and scholarships."