Rickus Otto: International Student and Scholarship Recipient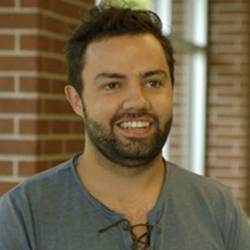 Meet Rickus Otto, an international student from South Africa, who has been attending LSC-Montgomery for the past three years. Rickus is also a recipient of The Woodlands Development Company Endowment scholarship.
So far, in 2014-2015, the Foundation has provided nearly $1,000,000 in scholarships to 1,000+ students and Rickus is grateful to be one of them. "This scholarship has helped me tremendously with my education,' says Rickus, "especially since I'm paying international tuition. Without this scholarship I don't think it would be possible for me to attend school."
Rickus recently earned his Associates of Arts degree this past May and continues to take transferrable classes because they are more affordable. In January, he plans to transfer to the University of Houston or the University of Texas where he will major in International Business and minor in International Studies. This was not his plan when he arrived in the United States four years ago, as he explains, "When I moved to the United States, my intention at first was not to study, because school is very expensive, and in South Africa, higher education is considered a luxury. But because of the scholarships, it made it possible for me to become a student here, and made it possible for me to be successful."