A gift today = a gift forever
The Glenn Family Endowment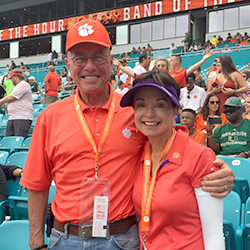 Since 2007, over 15 students studying in the disciplines of education, engineering, science or mathematics, who attended Conroe ISD and had a minimum 3.0 GPA, have benefited from scholarships provided by the Glenn Family Endowment.
Candi and Gerald Glenn, residents of The Woodlands and active community volunteers, established this endowment as a result of a suggestion made by a trusted friend, who was also a supporter of the LSC Foundation.
"When this particular friend says to support something, we strongly consider it," says Candi. "So Gerald and I talked about it...at the time we were on the board of Montgomery County Women's Center, and we saw, many times, Lone Star helping these women to get on their feet...we want to help the most vulnerable, and we liked the idea of doing an endowment so our donation could continue to help several students."
Gerald's career in civil engineering culminated at Chicago Bridge & Iron, where he served as chairman, president and CEO, until his retirement in 2007. Candi began her education at Miami Dade Community College and ultimately earned her law degree at Southwestern School of Law. It was this combination of interests and experience between the two of them that made them want to support students studying education, engineering, science or math. Says Candi about her husband's affinity for supporting such studies, "Gerald highly believes that engineering is the best degree ever to get."
Candi goes on to share that "when I wanted to go to school, I had scholarship money from my Dad being a veteran, and it really made a difference... it made it possible for me to empower myself through education. We want to provide that opportunity for students today, and we especially want to empower students in Montgomery County because there is a real need."
Candi and Gerald both strongly identify with a statement made by the late Dr. John P. McGovern, who was one of Texas Medical Center's most important figures, and has been quoted as saying, "what one earns, he spends; what he wins, he loses; and what he gives, he keeps forever."
"This comment has a strong impact on Gerald and me," says Candi, "as we firmly believe that when you give money for an education, it's not just a one-time thing; it's something that person has forever, and something that benefits that person and our community forever."