Lone Star College students receive Dr. Linda Stegall Excellence in Education Endowment scholarship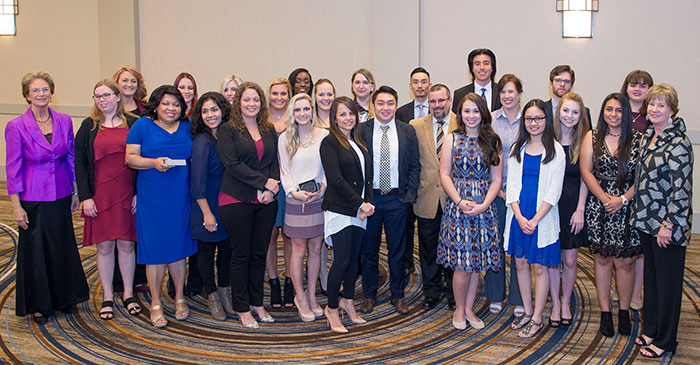 Pictured above: the 2016 award recipients of the Dr. Linda Stegall Excellence in Education Scholarship Endowment, with Dr. Katherine Persson, LSC-Kingwood president
Due to the generosity of an anonymous donor, The Dr. Linda Stegall Excellence in Education Endowment scholarships were awarded to 24 LSC-Kingwood students who have demonstrated academic achievement and success.
The recipients each received $3,500 to continue their second year of study at Lone Star College.
"I am so grateful for this scholarship and I hope to one day have the ability to help those in need," said scholarship recipient Michelle Lindauer. "This scholarship is not only a donation for education, but a donation for inspiration."
This annual scholarship is made possible by an anonymous donor who contributed a $1 million gift in April 2008 to the Lone Star College Foundation in the name of Dr. Stegall, former president of LSC-Kingwood, in honor of her service and passion for higher education.
"Under her guidance, LSC-Kingwood became a great asset to the Kingwood area for both the students and the local employers who need to hire talented and prepared employees," said the anonymous donor of the award's namesake. "Dr. Stegall is both a gifted visionary and an outstanding implementer. She is a difference maker in this world and we wanted to honor her with this scholarship program."
A second gift from the same anonymous donor in 2012 has made this scholarship the largest endowment that the LSC-Foundation manages, at $2 million. To date this legacy has touched over 150 individuals and will continue to honor the academic success of high-achieving students in perpetuity.
Students, their families, Dr. Linda Stegall and her family; Dr. Alton Smith and Dr. David Holsey, Lone Star College Board of Trustee members; LSC Foundation Executive Director Nicole Robinson Gauthier; and Dr. Katherine Persson, LSC-Kingwood president, were on hand for the awards banquet which was held at the Houston Airport Marriott at George Bush Intercontinental where award recipients were given the opportunity to address the crowd.
Former scholarship recipient, Tanyanika Tidwell, served as the featured guest speaker, who told the audience of the productive and fulfilling lives that can be achieved through education.
Founded in 1991, the Lone Star College Foundation has expanded its initial investment of $20,000 into an extensive portfolio of over $22 million. Since its inception, the Foundation has provided over $10 million in scholarships to nearly 10,000 students, as well as more than $4 million in program support. The mission of the LSC Foundation is to change lives through student scholarships and quality educational programs achieved by excellence in relationship building, fundraising, and investment management.
Lone Star College offers high-quality, low-cost academic transfer and career training education to 98,000 students each semester. LSC is training tomorrow's workforce today and redefining the community college experience to support student success. Stephen C. Head, Ph.D., serves as chancellor of LSC, the largest institution of higher education in the Houston area with an annual economic impact of $3.1 billion. LSC consists of six colleges, eight centers, two university centers, Lone Star Corporate College and LSC-Online. To learn more, visit LoneStar.edu.