LSC-Tomball pharmacy technology program is enhanced through Foundation partnership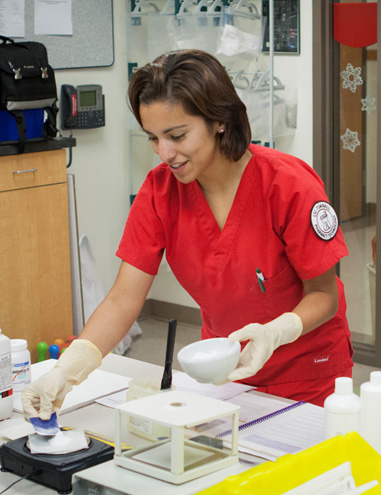 According to the US Department of Labor, Bureau of Labor Statics, employment of pharmacy technicians is projected to grow 20 percent from 2012 to 2022, faster than the average for all occupations, and Lone Star College has been, and remains, on the cutting edge of providing training and support for this profession.
LSC has offered a Pharmacy Technology certificate since 2005. As the demand for pharmacy technicians steadily increased, along with their responsibilities, LSC-Tomball responded by providing the AAS in Pharmacy Management in 2015.
"With the additional responsibilities and training requirements, the Texas State Board of Pharmacy changed the training requirements for both pharmacists and technicians to receive formal instruction in sterile compounding by a program that is accredited by the Accreditation Council for Pharmacy Education (ACPE), which is the same accrediting body for professional pharmacy schools," explains Diane Broome, Director of LSC-Tomball Pharmacy Technology program.
The Lone Star College Foundation was thrilled to receive a donation of $94,000 from Tomball Regional Health Foundation (TRHF), which paid for the ACPE Provider application fee and to purchase equipment needed for ACPE sterile compounding training.
"Tomball Regional Health Foundation has enjoyed a long and supportive relationship with Lone Star College Foundation," says Lynn LeBouef, CEO of TRHF and former board member of LSC Foundation. "Over the years we have supported many health-related programs at the College, especially in nursing and now Pharmacy Technology, and we value the opportunity to partner with Lone Star in meeting the health and wellness needs of our community."
The program will be offered beginning in the spring of 2016 in the LSC-Tomball Health Science building. Renovations are in progress, and the new suite will include a mock retail pharmacy with a simulated "drive-thru" window, a separate compounding room, a mock hospital pharmacy lab, an anteroom, clean room, dedicated pharmacy classroom, and offices for the faculty. Additionally, new high tech equipment that is used in retail and hospital pharmacies will be available to better prepare students.
"A Pharmacy Technician can work in a variety of settings, such as retail, hospital, nuclear, home health, insurance benefits, compounding, and much more," says Ms. Broome. "Regardless of the settings a technician practices in, they are rewarded with excellent benefits and comparable pay; however the most rewarding is to be a part of the healthcare team in providing quality care to all patients."