A legacy of courageous generosity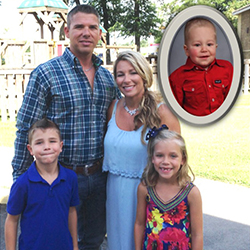 The Andrew Wade Heron Memorial Endowment
In 2007, the Andrew Wade Heron Memorial Endowment was established by parents Amber and Drew Heron. Having lost their precious 20-month-old son, Wade, to brain cancer, they wanted to do something to remember their son, as well as to honor and show support for the nurses who had become like family to them during this difficult time, so that other families could benefit in the future. As the Heron's approach the eight year anniversary of establishing this endowment, they share their feelings with the Lone Star College Foundation.
LSCF: First of all, thank you for your tremendous display of courageous generosity during such a traumatic time. How are you and your whole family doing today?
Amber & Drew: We are doing well! We live in Kingwood, TX with our two children Abbey and Colton and our dog Barbie. Drew is a captain in the Houston Fire Department. Amber is a board member of Addi's Faith Foundation, a local charity funding pediatric cancer research. We are an active and busy family. The family enjoys swimming, fishing, tennis, baseball, gymnastics, and competitive cheerleading.
LSCF: This August will mark the eight year anniversary since you set up the Andrew Wade Memorial Endowment, in memory of your son Wade. How does it feel to know that your support has helped eight students achieve their dream of completing the Associate Nursing Degree program at LSC-Kingwood?
Amber & Drew: When we set up our endowment, we also funded a one-time scholarship for a nursing student that first year since the endowment had not come to fruition yet. We chose a nursing scholarship because while our son was being treated for cancer, the nurses were truly amazing. They had a joy and a kindness that brought smiles to our son and the other patients. We wanted parents to have great nurses for their children in their times of need like we did. It' s very much a pay-it-forward idea.
LSCF: Drew, you are a graduate of the licensed vocational nursing program at Lone Star, and now work as a Captain in the Houston Fire Department; Amber, you work as an adjunct biology professor at LSC-Kingwood. What motivates you both to work so hard in service-oriented professions and to maintain your close ties with the college?
Amber & Drew: Drew received a scholarship through the ambassador program at Kingwood College, while Amber earned scholarships in academics and tennis (at other schools). We both recognize that the generosity of others really improved our lives and helped us achieve our goals. We wanted our endowment to be local and to stay in our community. We both are passionate about helping others.
LSCF: Establishing an endowment is a financial sacrifice. What advice would you give to anyone considering taking such a step?
Amber & Drew: Since a donor is allowed seven years to fully fund an endowment, that's only a few thousand dollars per year if someone took the long route. However, when you are excited about something, money seems to show up. We had some friends and family that helped us reach our goal within a year. There are so many reasons and ways to create an endowment. It can be a part of a will, or to honor someone. It's an amazing gift that keeps on giving. Once the endowment is funded, it is forever.
LSCF: If you could imagine Wade's reaction to your efforts, what do you think he would say today?
Amber & Drew: We know that Wade would be so happy that we have focused on helping others instead of dwelling on the tragedy of our loss. We decided that we would live our lives to honor our son.
LSCF: Is there anything else you would like to add?
Amber & Drew: We have enjoyed the Lone Star College Gala events so very much. We look forward to it every year!