A very quiet donor empowers the "difference makers"
Dr. Linda Stegall Excellence in Education Endowment Scholarship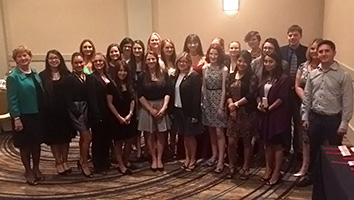 On September 29, 2015, the 7th Annual Dr. Linda Stegall Excellence in Education Banquet was held at the Marriott Houston Airport. This celebration honors the top 25 students at LSC-Kingwood who have demonstrated academic achievement and success as indicated by their GPA's. The recipients each receive $3,500 to continue their second year of study at Lone Star College. These scholarships are made possible as a result of an endowment funded by an anonymous Kingwood area couple. Named in honor of former LSC-Kingwood President, Dr. Linda Stegall, it is the largest endowment that the Foundation manages at $2 million, and over the years has supported nearly 150 students. These scholarships will be awarded in perpetuity.
When asked why they decided to create this endowment, the couple explained, "We have lived in the Kingwood area for more than 30 years. During that time we had witnessed the amazing progress that LSC-Kingwood had made in preparing our local area students for future success. Dr. Stegall became president in 1999 and retired in 2008. Not only did the number of students almost double from 4000 to 7,900 during her tenure as President but so, too, did the quality of education that each student receives. Under her guidance, LSC-Kingwood became a great asset to the Kingwood area for both the students and the local employers who need to hire talented and prepared employees. Dr. Stegall is both a gifted visionary and an outstanding implementer. She is a difference maker in this world and we wanted to honor her with this scholarship program."
In addition, the couple mentioned that they have no doubt that each of the students receiving this award will also be "difference makers in their own unique way" and will have their own stories to tell 20 years from now.
The students are more than appreciative and inspired. As one recipient said when she received her award, "I will continue to work hard so I can give back and help Lone Star College students in the future."