Entergy, Texas Inc. Donates $100,000 to Lone Star College Promise Scholarship Program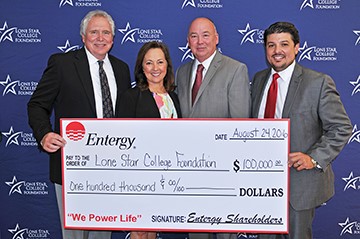 Pictured left to right are Doug McCormick, customer service representative, Entergy Texas, Inc.; Sallie Rainer, president and CEO, Entergy Texas, Inc.; Dr. Stephen C. Head, LSC chancellor; and Amos McDonald, LSC vice chancellor, Government and Public Relations.
Entergy, Texas, Inc. is supporting student success by donating $100,000 to the Lone Star College Foundation for student scholarships.
"Part of our strategic plan is building strong partnerships to promote student and community success," said Dr. Stephen C. Head, LSC chancellor. "This commitment by Entergy Texas, Inc. will go a long way in helping students who don't have the economic resources to receive an education."
Entergy Texas, Inc.'s contribution will be designated to the LSC Promise scholarship, which provides an opportunity for students to pursue and complete their higher education by funding the balance of tuition and fees due for students that still demonstrate financial need after all grant and scholarship awards are exhausted.
"The needs of today's workforce have changed dramatically," said Sallie Rainer, president and CEO, Entergy Texas, Inc. "This donation will be used exclusively to fund students' pursuit of studies in energy and manufacturing or industry certification, and we are excited to partner with Lone Star College to help students find a pathway to a college education."
"Lone Star College is committed to student access, equality, success and completion," said Head.
This year, the Lone Star College Foundation celebrates 25 years of providing scholarships, supporting programs and building communities. Founded in 1991, the Foundation has expanded its initial investment of $20,000 into an extensive portfolio of over $22 million. Since its inception, the Foundation has provided over $10 million in scholarships to nearly 10,000 students, as well as $4 million in program support.
Known for its leadership, innovation and steadfast commitment to student success, Lone Star College provides high-quality academic transfer and workforce education / career training programs to more than 83,000 credit students each semester, and a total enrollment of 95,000 students. LSC is training tomorrow's workforce today and redefining the community college experience to promote student success and economic prosperity. Stephen C. Head, Ph.D., is the chancellor of LSC, the largest institution of higher education in the Houston area, which consists of six colleges, eight centers, two university centers, Lone Star Corporate College and LSC-Online. To learn more visit LoneStar.edu.