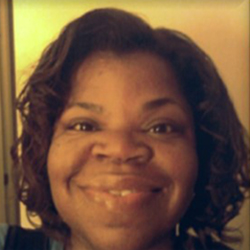 Over the river and through the woods, to 3D Animation school we go!
A student testimonial from LSC-North Harris student, Dianne Hines
That is not exactly the route that scholarship recipient and LSC-North Harris 3D Animation student Dianne Hines travels to school. Starting her commute from west Houston at 5:00 a.m., and navigating four different buses to begin classes at 7:30 a.m., is a more accurate description of the journey, and one that Dianne has willingly traveled, even when the route home in the evenings sometimes stretches to three hours due to traffic. Why would someone do this?
"My biggest motivator in making this commute was to re-build my life and to further develop my skills as a designer," says Hines, who earned her associate degree at the Art Institute of Houston and had been working for ten years as a graphic designer. When Hines' was forced to seek new employment due to organizational changes at her company, she found herself working in positions that had nothing to do with her experience and educational background.
"I had done some research and realized that the graphic design industry was slowly evolving into multimedia, not just print, and that I needed to add some additional skills to my resume if I wanted to remain in the field. I chose Lone Star College because they had the program I needed and were using the industry standard software for 3D Animation, Autodesk 3Ds Max."
With only one more online class to complete before earning 3D Animation certificate, Hines' has already begun interviewing to fulfill her next goal, which is to work for an established company in visual communications. As part of her five-year plan, Hines would like to attend the University of Houston in Sugarland, TX to pursue her bachelor's degree in Visual Communications.
Each year the LSC Foundation's annual golf tournament raises significant funds for scholarships, and Hines is one of the deserving recipients. "This scholarship has been a big help in my moving forward," says Hines. "I have been able to build an interview-ready portfolio and purchase business attire. I have also been able to contribute at home, as thanks to my mother for allowing me to move back in, so I can rebuild my life."
Hines' route to classes each day is very much like her route in life. "I have certainly not gone a traditional route," reflects Hines, "but have found that there is more than one good route in life, and that if we will have hope and faith we will end up where we should be, with joy and success."