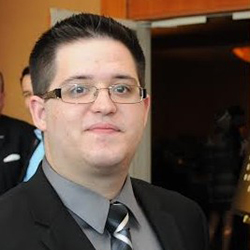 Julian's journey from GED student to construction science major at Texas A&M (and one day...a future Foundation donor!)
Scholarship recipient Julian Ciarella journeys toward success with a grateful heart
A battle with cancer at the tender age of 18 is what brought Julian to LSC, when he was forced to drop out of high school due to lengthy and grueling chemotherapy treatments. When he was declared cancer-free, he obtained his GED from LSC-North Harris and then continued there with his college career, ultimately graduating Summa Cum Laude with his associate of science degree. In fall 2015, Julian will begin studying construction science at Texas A&M University. Today, Julian is the first person in his family to ever receive any form of post-secondary education.

"My current goals are to carry my academic momentum from LSC to Texas A&M and serve the Bryan/College Station community through volunteerism," says Julian, who plans be active in construction-related student organizations and to volunteer for CARPOOL. CARPOOL facilitates a safe and reliable commuting environment in the Bryan/College Station area by providing free, non-judgmental rides home to intoxicated patrons and/or patrons rendered incapable of transportation due to other circumstances. Julian continues to say that "my father was taken from me and my family by a drunk driver, so this organization really hits home, and I am excited to serve the Bryan/College Station community."
Julian is also a candidate for the Terry Transfer Scholarship from the Terry Foundation, a huge opportunity which he says would not have occurred without Lone Star College leading him to success.
"My long-term, and ultimate goal, is to start my own construction related business so that I may provide jobs to my community which has given me so much," says Julian. "Without a doubt, I will be a Lone Star College Foundation donor in the future." Julian was honored as an essay finalist at the 2014 Chancellor's Breakfast. Read his winning essay >