A fateful encounter between donor & student
Who would have guessed that a conversation at a LSC Foundation event would change the course of Julian Ciarella's life?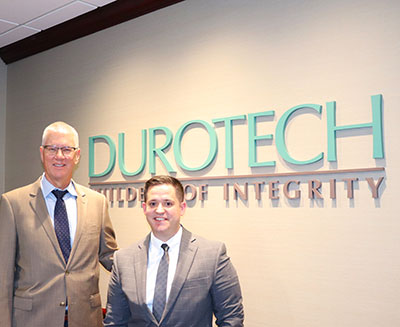 A fateful conversation between Julian and a longtime Foundation supporter, Durotech Construction CEO David Rowe, several years ago has now resulted in a successful career.
Julian's story at LSC began back in 2013 when he came to complete his GED at LSC-North Harris after he was forced to drop out of high school while battling cancer. He said, "The learning environment at Lone Star College was the hallmark of my experience. Being surrounded by a diverse student body of all races and ages looking to do their best and be successful is invigorating and invites a sense of duty to not only perform at a high level, but help other classmates perform at their highest level."
Once cancer free, Ciarella finished his studies at LSC-North Harris before transferring to Texas A&M University where he graduated with a degree in Construction Science.
While at LSC-North Harris, Ciarella earned several scholarships including the prestigious Chancellor's Essay Contest Finalist scholarship. "Receiving a LSC Foundation scholarship gave me the confidence that I would be successful in my journey through higher education," Ciarella continued, "It was an incredibly rewarding moment, a moment of joy, and a personal validation that I was in the right place and on the right track."
Ciarella was chosen to speak at the 2014 StarGala, which is where he met Durotech Construction CEO David Rowe.
"David Rowe happened to be the Chair of StarGala that year. He was set to introduce me on stage, and we spent a great deal of time beforehand talking and getting to know each other. After sharing my background, educational, and career goals, he recommended I look into the Construction Science program at Texas A&M University. After a visit to both Texas A&M Engineering and Construction Science departments, I knew my interests would be served well taking his recommendation. During my time at Texas A&M, I interned at Durotech for 6 months and a summer," said Ciarella.
Upon graduation, Ciarella accepted a fulltime position at Durotech and currently serves as an Estimator in the Pres-Construction department. In fact, he's part of the team set to work on the LSC-Victory Center renovation.
"At Durotech, we believe that the integrity of one's character and the gift of opportunity can unite to impact our society in the most surprising ways. Through our continued support of Lone Star College Foundation, we have seen many students grow their talents and positively affect our community, but we could never have anticipated that one scholarship recipient would eventually become a valued member at Durotech. While we donate to Lone Star College Foundation, the true gift continues to be the esteemed spirit and aptitude of recipients like Julian Ciarella," said Rowe.
Read more about Julian's original story HERE.