ESL Library Outreach Program - LSC-CyFair
Fall 2016 Programs:
September 12 - December 16
*NEW* All students must register in person and take a placement test on one of the following dates:
Friday, August 26: 10:00 am-2:00 pm
Saturday, August 27: 10:00 am-2:00 pm
Tuesday, August 30: 5:00 pm-8:00 pm
Registration and testing will take place in library room 215.
Please allow approximately 45 minutes for the test.
If you are unable to register or take the placement test on one of these dates, contact Lindsey Bartlett at lindsey.l.bartlett@lonestar.edu or 281-290-3973.
The library offers two types of sessions in its ESL program, held in LRNC 215:
Talk times provide listening and speaking practice. No registration is needed. See schedule in right side column.
Classes feature more intensive lessons over the course of a several months.
Both talk times and classes are free.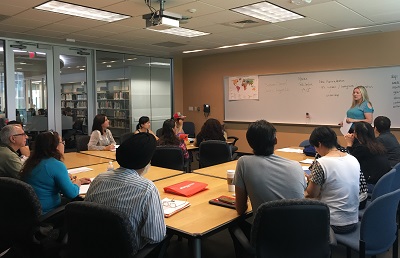 ---
Other Area Opportunities to Learn English
Harris County Department of Education

Call the number listed on their Web site to get the latest schedule.
Lone Star College–CyFair ESOL Department - NOTE: Classes are fee based.
Harris County Libraries - Call the library first for class availability:
---
Practice your English Skills on the Web
Mango Languages
www.hcpl.net/ref/dbsubs.htm#languages
Access these online language courses for free with your Harris County Public Library card or Lone Star ID card.
Learning Resources. Literacy Works

http://literacynet.org/learningresources
- Easy to Advanced level
"Each module includes the full text of each story and interactive activities to test comprehension. The learner can choose to read the text, listen to the text, and view a short video clip of the story."
Duolingo
https://www.duolingo.com
Create a free account to learn and practice reading, listening, and speaking on your computer or smart phone.
NPR
http://www.npr.org/
Lots of news here from all over the world. Listen to the Hourly Newscast - click on the arrow to listen at the top right of the page.
Randall's ESL Cyber Listening Lab
http://www.esl-lab.com/
Great site to test your listening skills. Modules include general and academic vocabulary.
---
Civics and Citizenship Resources
The U.S. Citizenship and Immigration Services (USCIS) is a primary source of information for new immigrants.
---
Summer 2016 Talk Times
June 6 - August 26
No registration required.
Monday:
1:00 - 2:00 p.m.

Wednesday:
1:00 - 2:00 p.m.
Fall 2016 Class Registration Dates
Friday, August 26:
10:00 am - 2:00 pm
Saturday, August 27:
10:00 am - 2:00 pm
Tuesday, August 30:
5:00 pm - 8:00 pm