ESL Library Outreach Program - LSC-CyFair
ESL Talk Times and Classes
Talk Times:
Practice speaking and listening to English.
Free with no registration required.
Meet in library room 215 at the days and times listed in box on this page.
Registration for Spring 2018 Classes
CyFair Library offers free English classes for speakers of other languages.
Registration for Spring 2018 classes has ended.
Please email tracy.l.williams@lonestar.edu with any questions.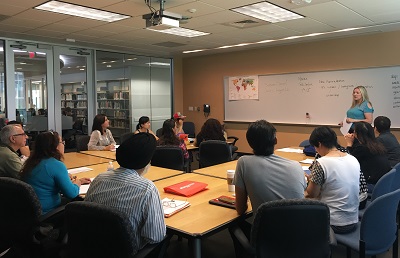 ---
Other Area Opportunities to Learn English
Harris County Public Library Branches
Free English, Citizenship, and/or GED classes offered at each branch. Call the specific branch to find out which courses are offered and when.
Go to www.hcpl.net/location/locations to find the library closest to you.
Harris County Department of Education
Free English and GED classes offered in the evenings.
Go to http://www.hcde-texas.org/who-we-are/divisions-and-leadership/adult-education/ or call 713-692-6216.
Cypress Assistance Ministries
Free English and GED classes offered in the evenings, with a $40 materials fee to register.
Go to www.cypressassistance.org/ged-esl-classes/ or call 281-826-4403.
ESOL Classes through Lone Star College
Fee-based classes offered through the Continuing Education Department or for college credit.
Go to www.lonestar.edu/esol.htm or contact the Continuing Education department at 281-290-3460.
---
Practice your English Skills on the Web
Pronunciator
www.hcpl.net/ref/dbsubs.htm#languages and choose Pronunciator
Access these online language tutorials with your Harris County Public Library card and pin number.
Lone Star College Access to Pronunciator
Duolingo
https://www.duolingo.com
Create a free account to learn and practice reading, listening, and speaking on your computer or smart phone.
BBC Learning English
www.bbc.co.uk/learningenglish/
Worksheets, videos, and vocabulary to practice English.
ESL Cyber Listening Lab
http://www.esl-lab.com/
Great site to test your listening skills. Modules include general and academic vocabulary.
GCF Learn Free
https://www.gcflearnfree.org/learnenglish/
Tutorials on learning English, computers, reading, math, as well as interactive practice with everyday life situations.
Civics and Citizenship Resources
U.S. Citizenship and Immigration Services (USCIS) is a primary source of information for new immigrants.
---
Spring 2018 Talk Times
January 29 - May 17
No registration required.
Location: Library Room 215
Mondays:
6:00 pm - 7:30 pm
Tuesdays:
2:45 pm - 3:45 pm
Thursdays:
10:00 am - 11:30 am (Levels 3, 4, and 5 students only please)