GSC Schedule
Keynote Speaker – Kelly Jacobs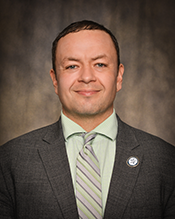 Kelly Jacobs is the Dean of Instruction for the LSC-North Harris Centers (Greenspoint and Victory). Starting with LSC as an adjunct instructor, Kelly is now in his sixth year of full-time service, having held the position of associate professor of political science and lead faculty before joining the LSC-North Harris administration in 2015. Kelly holds a bachelor's degree and a master's degree from the University of St. Thomas and will be defending his dissertation in fulfillment of the degree of doctor of education from Sam Houston State University in March of 2018.
Graduate Study Conference
March 23, 2018 8:00 AM–3:00 PM
Time

Session

Location

8:00 AM
Registration
Beckendorf Lobby
8:30 AM
Welcome and Overview
Beckendorf
9:00 am - 9:50 am

"Graduate School Overview"
Panelists include: Dr. Carmen Carter, Mr. Ryan Morris, Dr. Michael Chavez, and Dr. Alicia Friday

"Like a Good Neighbor, Your Committee is There"
Panelists: Dr. Jackie Thomas, Dr. Cherry Sawyerr, Dr. Rachel Smith, and Dr. R. Mark Miles

E 253



Beckendorf

10:00 am - 10:50 am
Strategies for Completion (Strand)

Say YES to a New Adventure: Admission Strategies and Completion Pitfalls to Avoid When Pursuing A Graduate Degree – Maggie Mendoza
Scholarship in Developmental Education: SHSU's Fully Online Developmental Education Administration Doctoral Program – Dr. Patrick Saxon

Research Design

Qualitative Research Answers the "Why" Questions – Dr. Pamela Hernandez
Quantitatively Speaking: Why All Doctoral Students Should Consider a Quantitative Dissertation – Dr. Abraham Korah


E 204



E 268





E 253


E 205

11:00 am - 11:50 am

LSC Scholarships and Partnerships/Research Funding

Speakers include Ms. Karen Lovejoy, Ms. Becky Duncan-Ramirez and Mrs. Beth Thompson

Beckendorf
12:00 pm - 1:00 pm

Lunch and Keynote Address

Mr. Kelly Jacobs
Dean of LSC-NH Greenspoint and Victory Centers
"Limitless Learning: The Challenges and Rewards of Balancing Professional and Academic Careers"

Beckendorf

Afternoon Events

1:00 pm - 3:00 pm
Writing Tips, Tools, and Community Building
Dr. Stephen Washington and Dr. Jennifer Travis
E 177
1:00 pm - 3:00 pm
Graduate School Expo
Beckendorf
1:00 pm - 3:00 pm
Writing Help Center with LSC Reference Librarians
LSC Library
L 207 and L 256
Brief Session Descriptions
Graduate School Overview – This panel will explore pursuing a graduate degree, thesis v. non-thesis option, types of doctoral degrees, online v. traditional learning, accreditation, etc.
Like a Good Neighbor, Your Committee is There – This panel will discuss selecting, managing, and dealing with your committee. It will also provide a brief overview of a dissertation and discussion of research methods.
LSC Scholarships and Partnerships/Research Funding - LSC now offers scholarships to employees pursuing degrees, and it has also developed partnerships with other institutions. This session will end with a video presentation regarding how to obtain funding for doctoral research.
Writing Tips, Tools, and Community Building – A sequence of short, mini-presentations, with time in-between for people to talk, sign up for writing groups, meet people at their campus, ask questions, etc.
Tentative Schedule and Possible topics:
1:00-1:05 - History of the LSC writing group
1:15-1:20 - writing log and lit review matrix
1:30-1:35 - Zotero reference management system
1:45-1:50 - Textbook and Academic Authors Association
2:00-2:05 - After the doctorate: Writing for professional growth
2:15-2:20 - Benefits of a writing support group, and how to start one.
2:30-2:35 - Web-based writing productivity tools
Graduate School Expo – Over 20 graduate programs will be on hand to provide information about their programs.
Writing Help Center - This center will provide an opportunity for attendees to work one-on-one with reference librarians and other skilled professionals to assist them with their writing. Participants will also have the opportunity to form "writing groups" on their home campuses.