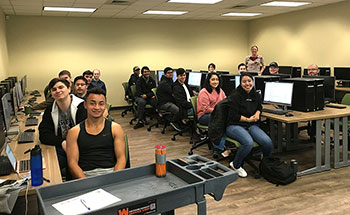 Current and potential students can register for May mini-term and summer 2019 classes at Lone Star College-Kingwood, LSC-Atascocita Center and at the LSC-Process Technology Center starting March 4.
The May mini-term semester begins May 13, summer I starts June 3, and summer II begins July 11. The registration period will continue through the first day of class. Courses are designed to fit a broad range of academic goals toward certificates, associate's degrees, or university transfer.
Credit classes offered at LSC-Kingwood during the summer are accounting, art appreciation, biology, business computers, business management, chemistry, child growth and development, communications, cosmetology, criminal justice, dance appreciation, dental hygiene, drama, economics, education, engineering, English, environmental science, ESOL, game design, geography, geology, government, history, humanities, introduction to computers, Japanese, math, medical terminology, music, nursing, occupational therapy assistant, philosophy, physical education, psychology, respiratory care, sociology, Spanish, and speech.
Summer credit classes offered at LSC-Atascocita Center are art appreciation, biology, drama, education, English, government, history, math, physical education, and psychology.
Available classes at LSC-Process Technology Center during the summer are applied physics, energy, hydraulics, and process technology courses such as introduction to process tech, quality, safety/health/environment, equipment, process instrumentation, operations, troubleshooting, and refining methods.
Registration for fall 2019 begins April 4 and classes start Aug. 26. For more information on summer 2019 registration, visit www.lonestar.edu/registration or call 281-312-1600. Academic and financial aid advisors are available on each campus.
Register now for credit classes online through myLoneStar. Classes are offered days, evenings, or weekends in traditional, online, or hybrid formats. For more information or to register online, visit www.lonestar.edu/registration. For general information about Lone Star College-Kingwood, call 281.312.1600 or visit http://lonestar.edu/kingwood.
Lone Star College offers high-quality, low-cost academic transfer and career training education to 99,000 students each semester. LSC is training tomorrow's workforce today and redefining the community college experience to support student success. Stephen C. Head, Ph.D., serves as chancellor of LSC, the largest institution of higher education in the Houston area with an annual economic impact of nearly $3 billion. LSC consists of six colleges, 10 centers, two university centers, Lone Star Corporate College and LSC-Online. To learn more, visit LoneStar.edu.
###