Dr. Seelpa Keshvala's Bio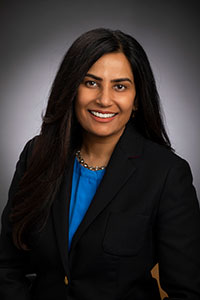 After serving more than five years as the President of Lone Star College-CyFair, Dr. Seelpa Keshvala was appointed the Executive Vice Chancellor and CEO of Lone Star College-Online in August 2021. In this new role, she is leading the development of our 8th college: LSC-Online. In addition, she coordinates with the college presidents to streamline reporting and decision-making and oversees the LSC-University Centers.
Dr. Keshvala is passionate about education and, in particular, the community college mission. She earned her Ph.D. in urban education with a concentration in educational administration; an M.S. in curriculum and instruction; and a B.S. in elementary education all from the University of Wisconsin in Milwaukee.
Her career began with teaching third- and fourth-grade in inner-city Milwaukee and later GED courses at Milwaukee Area Technical College. Her desire to continue making a difference progressed with various administrative roles in the community college setting. She served as Executive Director of the Educational Opportunity Fund (EOF) Program and Recruitment at Burlington County College located in Pemberton, New Jersey. Prior to joining LSC-CyFair, she served as President of the Ivy Tech Community College - Warsaw Campus located in Warsaw, Indiana, where she had previously served as Vice Chancellor and Executive Dean.
Dr. Keshvala serves on various community boards including the Cy-Fair Houston Chamber of Commerce, Cy-Hope, Cy-Hope Disaster Recovery, and HCA Houston Healthcare North Cypress.
Make LSC part of your story.